Whether we are beginning or advanced, whether we use protocols, body sensations, or intuitive sensing, discernment is considerably enhanced by keeping our energy clear.
Every type of guidance skill is only as reliable as the practitioner is clear. For accurate muscle testing, for example, it is essential to function as a clear instrument. The ability to get accurate information hinges on self-honesty. Authenticity, clarity and self-knowledge are essential to guidance skills.
Being clear about who we are and what we are doing goes a long way toward keeping our energy clean. When confusion or suppressed or unsettled emotions are roiling about, these conditions are expressed in our energy bodies. The resulting energy disturbances also cause energy that does not belong with us to be drawn to us, and to accumulate in related areas.
Energy in our fields 'talks.' It can sound like an inner voice, or feel like a particular motivation. You may feel like you want or need something, or 'hear' a voice expressing what you think is a personal emotion or desire. When you clear your energy this desire or voice immediately disappears, showing that it was an expression of accumulated energy, possibly from another source.
Boundary confusion exacerbates muddled energy. If we cannot tell whether an issue or an energy is our own or someone else's, it is more likely to hang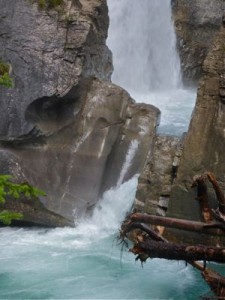 around.
When you use any kind of testing or discernment, notice whether you feel the least bit squirrelly. If you feel unclear, evasive, sly, disconnected, or a lack of continuity, clear yourself or stop until you can trust your information. Avoid testing when unclear. This helps to develop a groove of success, so you develop self trust. Begin with issues that are not highly charged, about which you do not feel conflict.
When I feel squirrelly, I do various tests on myself to discover whether or not I am able and willing to receive accurate information. I still need to do this if I am accessing something about which I have strong feelings or opinions. Detachment and ruthless self-observation are essential. The ability to unravel unconscious resistance to accurate information takes training, practice, and work with skilled practitioners.
Clear energy is necessary for clear perception. Compromised energy distorts perception. If you sense that your energy is not clear, try your discernment again when you feel more clear and focused.
These interventions can enhance clarity:
Spend fifteen or twenty minutes sitting on the ground or on a rock. The magnetics of the ground itself can clear and balance some energies.
Shower, with the intention of clearing your fields. Alternating warm and cold water can help. The colder the water the more it clears.
Make sure your blood sugar is balanced. Eat protein regularly.
Clear the rooms you spend time in. There are lots of techniques for this. In my extensive experience frankincense works best. (If you email a request I'll send you detailed instructions.)
Practice Qi Gong to learn to generate, direct and recognize energy, or yoga to get your energy flowing more smoothly through your body.
Make sure your upper neck is in place. Misalignment can make you foggy.
Avoid toxins such as alcohol, drugs, allergens, pesticides and chemicals. Resulting inflammation creates brain fog.
Relax any emotional reactivity or over-concern about others, including criticism.
When you need your clarity, visualize cutting and releasing all psychic connections and "cords" (sticky energy links between two people, forged by needs, awkward obligation, or attachment). Cross everyone off your inner to-do lists until you're ready to actually communicate.
Release emotional investment in information or events turning out to your liking.
Be willing to be wrong and open to being surprised.
Use these effective energy-clearing devices to throw off energy from external sources and clarify your energy. 
What do YOU do to clear your energy?
What is your biggest challenge with discernment?