"When power leads and wisdom follows, the face of wisdom is veiled and she stumbles; but when wisdom leads and power follows, they arrive safely at their destination."  ~Inayat Khan
Accessing intuition is supported by inner stillness. When our energies are still like a smooth pond we can most easily read what is going on and sense when, how, and whether we need to act.
Fear, excess speculation, investment in a particular outcome, and external Influences interfere with intuition. The things we do in our minds can interfere with inner Guidance.
When we become afraid and get stirred up we may well get into a loop in which we go outside of ourselves looking for information, and render ourselves less able to access intuition and internal guidance. If we are looking to an unstable outer situation for guidance, it is easy to become confused and upset. Gathering information is necessary, but it is essential to take the step of then quieting ourselves to access clear, balanced, intuitive Guidance, which transcends the external situations. If we do not, we will rush about all reacting to one another.
When we are invested in a particular out come it is very difficult to be objective. Does this mean not to hold goals and values? Absolutely not. Self mastery consists of holding goals and values, and caring deeply about them, yet also being open to good coming from scenarios other than the ones we envision. We need to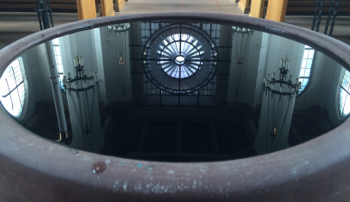 balance between acting on our best assessment and accepting what is going on. This does not mean we accept it without acting to change it. It means that we act from inner peace and intuitive presence instead of reactive emotion.
Self-observation is the greatest boon to intuition. Intuition is strengthened or obviated by our capacity to self-observe.
The most difficult and some of the most important Inner Work consists of self-observing our survival reactions and defense systems. When these are kicked up and in action it is all but impossible to access intuition, for it will be biased by fear and speculation, and often from energies that do not originate with us, clouding perception.
It is easy to understand how we naturally go out into our environment to collect information and impressions when we are uneasy, to try to sense what is going on. This opens us to external energies. When we are at peace, we go out to gather impressions and then return to ourselves, releasing them.
When we are burdened by fear or survival issues, the emotions and imbalances this causes in our energy systems causes our energy to become sticky to and hold onto matching fear and anger energy from the outside. This is the energy-equivalent of the mental process of case-building, where one builds up a biased point of view by gathering evidence.
Mental types are more prone to case building. Emotional types are more prone to reactive emotion. Body or sensation types are more prone to instinctual gut level defense. All of us have all three functions. Ability to self-observe each of these reactive stances in ourselves is an advantage. This skill can be challenging to develop, but if we cannot, accessing accurate intuition and inner Guidance will be spotty at best. Actions taken from clear perception and intuitive Guidance are more positive, powerful, and peaceful than actions taken from a reactive stance.
In general, the less aware we are of our reactivity the more it runs us. Intervention consists of bringing one's self back into balance. To do so, we need to accept What Is, self-soothe, relax our reactions, and shed external influence so we can identify what belongs to us and what does not. In our current political climate one needs to do this multiple times a day. When we do not, negative emotions and energies build up and create painful and frightening imbalances, and we are unable to take clear and effective action, or to calm ourselves. Noticing that we are able to be safe and okay just in this one particular moment can help body chemistry return to normal so that clarity is possible.
What is your tendency when you go into fear?
How does this influence your ability to access inner Guidance?