"Right and wrong depend upon attitude and situation, not upon the action." ~ Inayat Khan
Some spiritual schools encourage students to remain together in situations that spawn conflict. Aspirants develop by finding some way to come to real peace while remaining in relationship with the people around them.
As a powerful person who tends to speak out, I still suffer when I step on someone's toes. Some years back I went so far as to bring this up with one of the world's top humanistic astrologers. I wanted to start this blog, and was worried that I might offend people. I asked him to look at my chart and tell me how I could step into a more public view without evoking irritation or causing distress.
His response shocked me. He said that waking people up–even to the extent of being somewhat abrasive–is part of my purpose on the planet. He went on to say that the problem was not that I stir things up, but that I feel bad about it afterward. He cited this backlash of oversensitivity as the problem, not boldly expressing my views. He went on to mention people who enjoy celebrity status precisely FOR the kind of behaviors I was hoping to eradicate.
The more powerful we become and the more developed we are, the more our actions require balance, compassion, and discernment. Since I believe that it is important to speak out and do not have a thick skin, I must develop mastery.
I believe in feedback. I believe that if we all speak our objections, respectfully, when companies act in ways that cause large numbers of people unnecessary stress, that this will eventually a difference. I believe that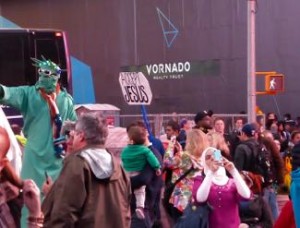 when a company or an individual acts in ways that are offensive, we serve others by speaking up. Participation and involvement are important, and can be civic-minded.
We have different natures. We are not called upon to act identically. The saint accepts everything without complaint. In contrast, those on a path of mastery seek to adapt the world to the highest common denominator. Both paths are valid.
I do not believe in moving to the lowest common denominator to keep an awkward semblance of harmony when I might be able to inspire or create something greater.
Some may say it is arrogance to think we can know what this may be, but I will say this is the way the world goes round and how we learn. I seek to move from my heart instead of imposing some idea out of a mental judgement or a false sense of superiority; to remain in a spirit of unity and service. I would rather make mistakes than to fail to act when I am moved to do so.
I don't want to burn myself out with the 'unreachable dream' racket. I aim to move from inspiration, not compulsion. I want to be lucid about what is mine to do and what is not.
I do not believe in cookie-cutter solutions that rely on rules instead. In addition to the particulars of the moment, whether or not our actions are of benefit depends on:
—our motivations
—whether we are acting from strength or from perceived weakness
—our willingness to self observe
—how successfully we can stay in our hearts
—the physiology, tensions, and conditions that influence our body language
—how skillfully we have apprehended the actual situation
—the exact timing of our actions
—the capacity of others to respond within this timing
I believe that the world is a better place when we bring forth our authentic voice and contribute our views–with the caveat that we do so as kindly as we are able.
What do YOU believe?
What is our civic responsibility?
What is our spiritual responsibility?
When and how is helping wake one another up part of our karmic purpose?