A housecleaner was leaving my home after his second visit. At the door, we were conversing about whether or not to reschedule. I said, "To be perfectly frank, I like your work and feel you are reliable, but I need to adjust to you being in the house. You have really big energy, and I find myself having trouble concentrating. Perhaps I can do errands when you're here. Of course I couldn't do that the first time, but now that you know the house, something like that could work." 
"Can you tell what I am thinking?" he asked, suddenly and baldly. I smiled and he went on: "I mean, I suppose I do notice energy to some extent—but I'm used to being around people who don't notice that type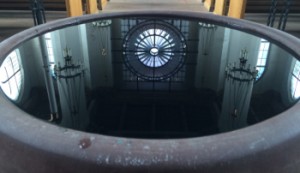 of thing."
"I get the impression," I said gently, "that you have had some experience of being invaded by other people."
"Oh yes! When haven't I been invaded?!"
"Lots of us have that experience. It's more normal than you would think. Take, for example, being a teenager and coming home two hours after curfew. You put your hand on the door and most people know at that point who is awake and whether or not they are in trouble. That's feeling energy."
"Sure. I did that."
"It sounds like you are fairly sensitive to energy."
"I think I may be, but I haven't really thought about it that much, and I'm not sure I always know what I'm noticing."
"My friend who was visiting today scanned you when you came in. I think that may have made you uncomfortable." He shifted around on his feet. "She's young yet, and doesn't realize that it's invasive to scan someone. Here's how it works: Some things are in the public space and some are in private space. It's okay to 'read' anything someone puts into the public mind-space. It's not okay to go into their private mind-space without permission."
He was looking at me, engaged, taking it in.
"Say you are sitting at a table reading a newspaper. If I walk by and I see the major headlines on the outside, that's normal and acceptable. I may notice but not really try to read the fairly large headings. I do not sit down or bend over and read the articles. It is a violation for me to come around to the side of the paper you are on and read things without your permission. That is how it works. So: I don't really pay any attention to what you are thinking. It's not my business—and it takes work to read it."
The housecleaner looked relieved and we went on to handle scheduling.
I found the encounter interesting because he was forthright about what he needed to know, and asked directly. For every one like him there are likely to be thirty who will not know how to ask, and a few hundred to whom the concept doesn't even occur, or who shut down their thoughts and feelings about it before they become aware of them.
How do YOU feel when someone scans you?
If you scan other people, do you use any ethical or practical guidelines?
Do you believe that there is or should be an ethic about scanning other people?
If so, what feels right to you and why?
Here's an old joke: Two psychics were walking down the street. They stopped, smiled, looked one another up and down, and one said, "You're fine! How am I?"