Direct experience is a powerful teacher. Powerful teachers promote direct experience. This post describes an intense, direct experience of forgiveness, under the guidance of two powerful teachers.
As the ten-day retreat (see previous posts) began I was closed down after months of difficult experience without the cleansing release of tears. At that point God, love, and all such superlative positives felt abstract. A pragmatist, I enter states during which I am not inclined to "believe" anything based on rearranging the ideas in my head rather than direct experience. I talked to one of the senior retreat guides. He asked simply, "What DO you believe in?"
I said, "I have experienced before that by doing various practices with sound, intention and energy we can resonate with energies that evoke specific experiences that move us and open our hearts. I believe in that."
"That works," he acknowledged. And it does.
Let me share an exercise he led as a further example:
After several days doing spiritual practices that sensitize the heart I was certainly not the only person keenly feeling his or her sandpapery ego. Fortunately the retreat guides were intentionally tracking the emotional states that began to emerge in retreat participants. Their book title—Physicians of the Heart—speaks aptly to applying the right practice at the right moment to open and heal the heart. We had been using sounds that resonate in the heart center to evoke specific qualities of love or compassion. Now the retreat focus became forgiveness.
During another Dance of Universal Peace, the group circled up into two concentric circles. With eye contact and music, masterfully improvised, we were to focus on and transmit four stages of forgiveness, then advance to the next partner. The capacity of the leader to fully feel and transmit the sensations, energies and emotions of the four states supercharged the exercise. Here are the
four stages of forgiveness we worked with—as closely as I can recall:
1. Running our hands along their energy fields we visualized massaging the balm of forgiveness into the wounds of each dance partner, speaking a name of God that carries the resonance of this quality of forgiveness. We were to "Take forgiveness in to the deepest unforgivable place," including the mistakes we repeat over and over again.
2. We placed our own fingertips together, then lovingly directed them toward the heart center of the other person, intending to enter the deepest wounds to the heart. We used another Name to "Allow this quality of forgiveness to penetrate all the way to the origin of those wounds."
3. With one hand on our hearts, we opened our other hands out toward the world, as if erasing the footprints of the event from desert sands, inviting the ability to turn away from the wound without denying it.
4. We blew into our dance partner's heart center, gently and with great respect, as if blowing away the last fleck of dust, "As if the wound or event had never existed, even in memory."
This may sound a bit silly all on its own. Given the correct timing and the powerful, focused energies during the retreat process, it was incredibly intense. Most of the eighty or so participants were streaming tears. Each brought utmost sincerity and their most capable compassion to the party. Some were powerful healers.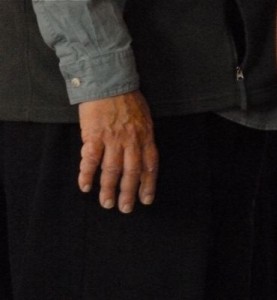 I noticed how much easier it was for me to stand in and give out that compassion to others than to allow myself to totally receive it for myself. Fortunately I ended up paired not only with several effective and energy-alive partners, but with the current group leader. My moments paired with him during this practice were actually some of the most moving in my life. I was absolutely raw, absolutely vulnerable, and totally focused on allowing him to impact me permanently. While being as uncomfortable as a finger resting on an eyeball, this experience was profound and amazing. I have never felt such a profound emanation of compassion so directly—and as a healer with decades of different types of spiritual exposure, I've felt a lot of it!
What is the most powerful experience of forgiveness YOU have had?
How did it change your life?