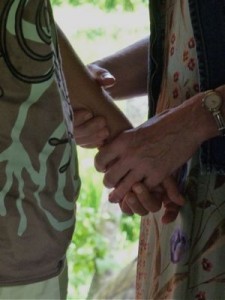 While one of my brightest and most loyal-hearted clients wrestled with an inner conflict about his marriage, I had an interesting window into our humanness. As we explored feelings, actions, and possibilities it stuck me that we were skimming the water line between the airy realm of the mind and the deeper waters of the heart.
I noticed in a new and immediate way that these two realms have quite different physics, laws, subtle structures, and sensations. I sensed almost physically the way these different "realities" touch–like the great expanse of sky kissing the sea, stirring together surface-to-surface during storms but never merging or become like one another.
I was tracking my client's buffers—the residues of trauma; invisible walls that keep threatening feelings and memories apart from awareness like a sheet of one-way glass in a fish tank. His buffers were thin. Like pointing from a boat into the depth; at certain angles of light we could see in. From the realm of mind we watched the movement of emotion like fish beneath the surface. He had enough awareness to stay with his feelings while using his skills to go up to bat for his needs. He remained loyal.
On the heels of these observations I saw the way unprocessed trauma–with thicker and more numerous buffers—can make balancing thought and feeling nearly impossible. Buffers cause thought and feeling to alternate without awareness, so they cannot modify one another--different realms a mirror surface away. Our motivations can be invisible to us even while they take shape in action.
Conflicts build up inner pressure when parts of us do not have a voice. The actions that spring from these hidden parts are not consistent with our stated values. Frightening feelings and unthinkable motivations activate the buffers that make us unaware, turning these hidden parts into exiles. So unresolved trauma can make us emotionally and spiritually deaf to the effects of our own actions. Survival mechanisms have no principles.
Reclaiming the brighter legacy of our humanity by becoming self-aware results from courageous Inner Work. As we explored in my post series on this important topic, we can develop an unshakable habit of deep yet detached self-observation.
Yet even Inner Work does not guarantee that we integrate buffered material. I am thinking of someone who excels in self-observation yet fails to apply it when triggered. He has an allergy to psychology, denouncing it frequently in favor of spirituality as a superior practice.
The role of psychology is to assist us to approach and manage the trauma hidden beneath our buffers. Once we are able to feel, identify, and interact with the issues that trigger us, drive us to dissociate, or make us act against our values, Inner Work on its own may be enough. If we cannot approach buffered issues we need frank, experienced assistance to reflect us to ourselves and free our inner exiles.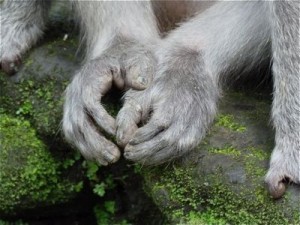 We all know people who do what they think or fear is expected of them to hold on to relationships. They resent their weakness while blaming the other person and feeling controlled. When we lack the inner strength to remain loyal to our own needs, feelings, ethics, boundaries or beliefs, attempting to be loyal to others brings up traumatic inner conflicts. These conflicts usually originate in childhood and reside behind buffers.
We may experience the other person as interfering with our ability to take care of ourselves or get our needs met. What is usually going on here is a lack of self-honesty and awareness about real needs, and about who is responsible for our care. We can ask others to participate in meeting our needs, but not to read our minds or to step in without a direct request.
Even in actual situations that force us to choose between our own needs and those of another, we can be forthright, sincere, and loving.
What do YOU do when you feel like someone is stopping you from doing what you want to do? Can you take responsibility for your feelings and remain loving even as you free yourself?