"Brother, stand the pain.
Escape the poison of your impulses.
The sky will bow to your beauty, if you do.
Learn to light the candle. Rise with the sun.
Turn away from the cave of your sleeping.
That way a thorn expands to a rose." ~Rumi
Some of my worst moments occur when I feel forced to squander countless hours trying, for example, to download a year of financial information that some mandatory update has eaten, and telephone "help" no longer supports the platform I just repurchased. With the thousands of people in mind who are in the same position, being treated to casual cruelty, irresponsibility, and the company's rhetoric about their lack of support for the products they inflict on the public has reduced me to shouting. It's the helplessness.
I know this is trivial. The triviality makes it worse. Stress from major life events at least seems meaningful. Real trauma is vitally alive. It demands transformation. In contrast, dry and useless waste of precious days is like death by a thousand paper cuts. Meaningless stress deadens us and erodes societal well being.
Inability to accept the mundane increases my pain. Aiming for self mastery or contribution offer a sense of choice about some part of the experience, adding some meaning. When I am willing and able to practice this it reduces my distress.
One of my spiritual goals is to be able to remain in my heart—or at least avoid spiking my cortisol—in frustrating, trivial circumstances. It helps me to take a strong stand for everyone who may have to deal with the same thing. I seek to enroll anyone who may be able to make a difference in the way that company does business, asking them to help reduce meaningless planetary stress by advocating positive change during meetings, and by notifying policy makers. Breath practices help me too.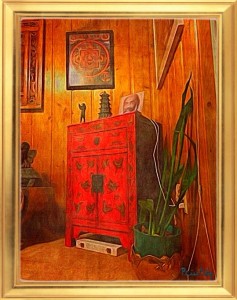 We may be unable to control circumstances, but we can at least gain some influence over our responses to them.
When we do not participate in the ways that ARE possible, we suffer more.
Looping back into our several-post topic of spirituality and suffering:
When we feel that God will cause us suffering, I think we must ask ourselves What we take God to be. (Please substitute your own word or concept if you don't like the G-word.)
When we experience ourselves as separate from God, we can be messed with by God. When we feel we are an integral part of God, like a cell within the whole of the body, we play our part. We are impacted by the whole but it is not doing anything TO us; we are part of it.
Someone once said to the spiritual leader, Hazrat Inayat Khan, "I don't believe in God."
Inayat Khan replied, "You haven't experienced God. How can you believe in something if you have not experienced it? Wait until you have some experience and then believe."
Inayat Khan also said that god is a vibration, and that we create that vibration. We bring it forth from within us as an ideal, and train our energy to resonate with that ideal, making it real by bringing it through us into the world.
No matter what we believe or what we call it, we can practice bringing love into the world. It's not easy, but it is inherently worthwhile.
Working with love and forgiveness AS ENERGIES invites expanded and redemptive experience. Working through the mind is less efficient. We need to FEEL it. When we are willing to love ourselves during our moments of distress, and to forgive ourselves for our wounds, we move toward happiness that transcends circumstances and conditions.
What do YOU resist, and how does this resistance ultimately increase your distress?
Can you identify some way to create a sense of choice or freedom within your experience?