I experience "subtext" (people's unvoiced, private thought) like being in a room with a radio station playing in the background. Some of people can tune that input out, while others find it intrusive.
How we response to subtext can depend on which 'station' is playing, and on our state at that moment in time. Our ability to tune things out depends in part on our ability to concentrate. The better we are able to concentrate, the more choice we have about what to let in and what to tune out.
When someone is emotionally important to me I am more attentively tuned to them, so their subtext stands out more. Subtext can indicate that a sensitive topic has arisen, and the person is readying to address it. This attracts my attention. When I am entirely comfortable and trust the person not to withhold communication, I find it easy to wait for what they might bring forth. When I feel uncertain or shut out, I may find myself anticipating with discomfort communication that is not simply being shared.
As I consider intuitive communication I find myself wanting to share several stories from a recent meditation and spiritual dance retreat.
My spiritual Teacher communicates through intentional "text" (unvoiced yet direct communication). He broadcasts his intentions, and any energy he decides to share, with lucid congruence between energy, body, speech, and emotion.
During practice sessions he models different inner states by palpably producing their energy. He also broadcasts intention when demonstrating clear boundaries. If he were, for example, walking along and did not wish to be disturbed, even an insensitive clod would find it daunting to interrupt him. A friend described this: "It's as if he has a huge 'do not disturb' sign on his back."
During lunch at the retreat, he and I were sitting at the same table. A young man across from us was saying that he could meditate and work, but could not exercise, because his emotions would come up. The rest of this story is is embarrassing, but worth sharing. I was very tired at the time, and felt like I was going to get drawn in and start to explain how important it is to be in touch with one's feelings. Having finished eating, I wanted to get up and go, but I did not want to be rude.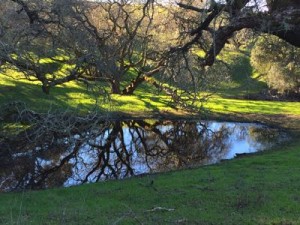 "I'm probably the wrong person to say that to," I told him, "since I bring people's buried emotions." Missing my implication, he began to explain his situation in detail. I wasn't sure how to get out of this without shutting him down.
My Teacher had one bite left on his plate. I thought, I'll just wait until he's done and get up when he does. A moment later he stood up as if to leave. As I in turn stood up, he immediately took his seat once again. The food was still on his plate. I hope I didn't gape. As I scuttled off with my plate, I saw him look to the young man saying, "Have you considered some form of movement therapy?"
He had made it so simple. I was struck by his economy of words, grasp of the situation, and practical compassion.
I said to him later, "Thank you for helping me escape at lunch."
He said, "So you're one of those people who find it hard to turn away when people need too much from you?"
"Yes. I handle it pretty well at work, but the boundaries can be confusing in social situations."
We had a kind-of repeat the next night. I was exhausted during the evening program and wanted to leave, but did not want to offend the speaker. When I glanced in his direction my Teacher stood up as if to move toward the door, then sat back down. I left.
Now it's up to me to remember and apply this Zen lesson in all appropriate circumstances, to be fully present or take body with me wherever I'm thinking about going!
It is stimulating to be in situations in which my own text and subtext are as clearly consequential as direct speech.
I suspect that what we do not say aloud is always of consequence. Usually it's just less obvious.
Do YOU remember being in circumstances in which someone was apparently aware of whatever you were thinking?
What was that like for you?