I have long experimented with unusual types of healing and energy work, to find out what I might experience. This practice helps me develop and extend my ability to sense a wide range of energies. Accumulated experience contributes to my capacity to recognize, track, and sometimes to understanding the energies at play.
One healer I saw in Maui removes entities (negative energies), and works with the subtle energy fields around the physical body. He works out of a Quonset hut chock full of spiritual statues, fat crystals, and photos of assorted spiritual masters.
His property is not easy to find. He does not take appointments, but has set hours two days a week and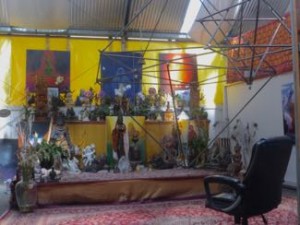 people simply show up. He has a donation box, instead of dealing directly with money, talks sparingly, and does not explain things. Sessions take only a few minutes. He sends people off with a page of energy meditations that help maintain the work. Despite his rather abrupt manner, this healer has treated over twenty thousand people. I believed him when he told me this because he is solid, focused, grounded, powerful, and clear.
The work: He has an inverted metal pyramid with a crystal on it, which he put over my head and spun slowly, while he stood behind the chair and made observations about my energy fields.
This was my second visit. (I did not have any entities. 🙂 ) I was having trouble sleeping. He found that my "astral body was functioning at only 20 percent." He said that the astral body is related to sleep. He did not explain—and I knew better than to ask—but told me he had brought it up to 80 percent. I can't say I felt much, aside from a bit more robust in the fields around me. I did, however, begin to sleep better. . . .
. . . until I interfaced closely with a certain person. After some time I noticed a pattern: The more I interfaced with him the worse my sleep became, improving with breaks.
What was going on with this? One morning I woke up with a clear insight. The person was not functioning in reality. Tracking his energy to try and understand where he was coming from was draining my astral energy.
This is how it works: The astral world is 'sideways-y,' according to one of my early spiritual teachers. Astral energy mainly runs horizontally. This tends to remove it from connection with Guidance, which comes in via the vertical axis and lifts one's perspective. When someone is in the sideways inner worlds of projection, or in past 'movies' (intense visual memories), their energy loops around or spills out into astral space. This energy usually relates to arrested developmental stages or traumatic events. Separation anxiety or anger with a parent, for example, is stuck in their body and energy systems. Along with words and thoughts, they will project this energy out onto a real person, who they have cast in the parent role in their inner movie.
When I go into synch with that kind of energy I tend to ruminate, worry and speculate. Balanced presence and constructive action are unlikely from that energy matrix.
Since I am highly sensitive to incongruence between word, speech, and energy, discerning between projections and communication that may have something more personal to do with me can take focused attention. If I track the energy to understand more clearly—a work-habit for me—I overuse and deplete my astral energy. Figuring this out has helped me take better care.
Do you overuse your astral energy or use too much energy reading others?
If so, how does that show up in your life?