"Shatter your ideals on the rock of Truth."  ~Inayat Khan
The urge toward self realization, actualization, self awareness, and awakening is a major driver in the Universe. It supports so much of what I hold dear because it gives meaning to human endeavor.
While not the most evolved stance, when someone who is important to me eschews what I most value and hold as right and good, it rankles me. I'm sure I'm not alone in that.
I've been thinking about just what it is that I find disturbing about unconsciousness. When someone SEES and ADMITS their foibles, this often makes them acceptable to me. This intrigues me. Is it because I can accept it when they do?
When we do not accept ourselves, it is harder for others to do so.
One of the key drivers of the Universe is the urge to become Self aware. It strikes me that when we RESIST awareness, we are moving away from this primary spiritual impetus. It just seems 'off' to me. It heckles my truth-sensors and aggravates my values and sense of honor.
So does standing in judgment of those who are less evolved. I am seeking to come to peace with the fact that much of humanity lives in the darkness of our own ignorance and denial. This peace is not coming easily.
I'm finding it useful to explore what it is about unconsciousness of self that I find offensive. Let me avoid listing attitudes that support atrocities, and stick to the mundane expressions of ignorance—although they are cut from the same cloth. Denial and overlooking one's abuse of power may play our trivially in daily life. This ignorance is still of the same nature as that which some act out in damaging ways on the slate of an entire country.
We separate ourselves from others when we wall ourselves off to defend ourselves from insight. Then we can act in ways that cause harm without realizing our essential unity with others. The unity exists, yet we ignore it. That is ignor-ance.
I've been asking myself, "How do we love and bond with those who are not particularly developed?"
Paradoxically, we need to be able to NOT bond with them; to stand clear and solid in our own knowing of Self. As we are able to keep from being confused, or selling out parts of ourselves to go into unhealthy bonding, we have real choice. Now we become able to bond AND to un-bond and stand on our own. From this stance of inner freedom we can enjoy various points of commonality with others without becoming confused with them.
My spiritual tradition regularly sends the benefits of deep spiritual work to all of those in need, with the aim to aid, bless and awaken. This kind of Work allows us to experience Love and spiritual unity with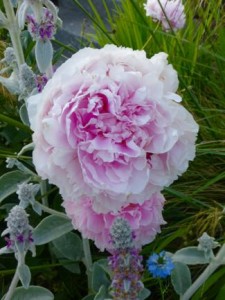 others, regardless of their level of development. I greatly appreciate having role models who demonstrate what this Love feels like, so that I can participate while I am learning to generate and sustain it on my own.
Learning to love those we cannot love is one of the most personally and spiritually expansive endeavors we can undertake. It can confer meaning on difficult situations, allowing us to use them to our spiritual advantage.
When we bond with the One-in-All, inside, we find that others are no longer separate from us, whether or not they are Awake.
What traits do YOU find hard to love?
Do you have a need (like connection), a value (like Truth), or an ideal (like self awareness) that underlies this?
How can you reformat your ideals to expand your ability to Love?