In my last post I mentioned cutting my hair to let go of the past. Let's talk more generally about letting go of the past, and about loss.
Sometimes we are able to welcome releasing things that hold us to our pasts. We do not experience this as loss, or if we do, it is bittersweet. By releasing the past we feel freer, more alive, and more awake in the moment. Withdrawing our energy and attachment from the things we hold to us recoups this energy to enrich Right Now or invest again.
It is illuminating to consider how the losses or absences that we agree to strike us differently than losses about which we feel we have no choice. It's totally different, for example, to cut off your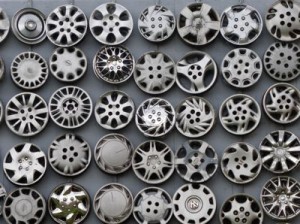 hair by choice than to be forced to do so, like being drafted into the military. It is different to sell everything to move onto a boat or to travel than to have your possessions stolen, or disappear in a fire.
We have a strange and uneasy balance between letting go of things to embrace new spaces, and suffering loss when we have things taken away from us before we are ready to release them. Choice makes an enormous difference.
One of my clients (I'm sharing about her with her permission) loves spending time in hotel rooms, with almost nothing along with her. She feels herself and her essence keenly, without the distraction of objects. Possessions call out to be managed, or remind her of who she might be in another moment. I've had that feeling too.
The same woman, who so enjoys freedom from her own possessions, lost all of her possessions in a fire. She had a great attitude, which allowed even this painful loss to be freeing.
Many of her possessions are now hand-me-downs. "They are like dribs and drabs of other people's energy and their taste," she said, lacking the particularity of something she would intentionally choose for herself.
We vary so much with respect to objects acquired from others. Some people value gifts more than items they choose for themselves—even when they dislike the gift. They may feel conflict about shedding a gift that was not chosen with sensitivity to their needs and preferences.
Our possessions reflect what we feel and who we are. Letting go of them can challenge our sense of identity.
Holding onto things can be driven by trying to hold on to states, memories, and moments of life, symbolized by objects or mementos. Many of us do an interesting dance between longing to free ourselves by letting go of things and wanting to hold onto them.
When you hold onto things, why do you want to hold onto them?
What is it to which you are actually attached?
How does holding onto them make you feel?