"The word that is not heard is lost." ~Inayat Khan
Allowing and taking in influence, we take reflections we receive from someone we respect and actively incorporate their insight into our Inner Work. The next time we have a conversation with that person, the results of our previous communication are then reflected by changes in our orientation, manner, insights, and understanding.
Aware practitioners who do healing, therapy, or spiritual work notice when clients make the work their own, returning with a picture that has evolved.
Clients or friends who do NOT do their Inner Work return to the next conversation pretty much the same as they were before the last encounter.
In contrast, those of us who have developed a sense of continuity may maintain important conversations as active and ongoing processes, which we together build on over time. Carrying continuity of conversation when the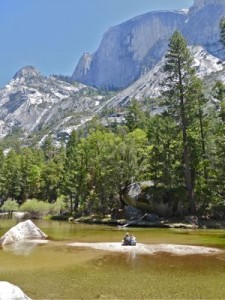 other person does not can make interaction draining.
In relationships between professionals and clients, satisfaction and a feeling of shared accomplishment arise when the client begins to actively internalize and practice what they receive. In contrast, working with clients who ONLY work in session can feel like shoveling gravel.
An insightful client once asked, "If I take in what you say and reflect on it, will it have an impact without you doing anything else?" I smiled, and decided to write about this.
I had just shared an insight. I could feel and see it go IN. Her energy fields received it. Her chakras opened to it. Her energy system shifted in response to what I said. When that happens I KNOW that it is something the person will hold within themselves. It becomes a part of their consciousness because they took it in and assimilated it. Insights or healing energy work best by becoming internal to those who receive them.
People who are ready and receptive take things in and reshape their reality. A change occurs within, changing the way they view things. Insights that are grasped and absorbed this way, with presence, involve the functions of sensing and feeling as well as thinking. Such insights contain and deliver a degree or charge of momentum toward change—whether or not we consciously remember their content or reflect upon them later.
When people do not do take outer work—such as insightful interchange—into their Inner Work, their energy and reality do not change from what they hear. The insight or energy does not become a part of their own fabric of Being. Even if they go away and cogitate ("go figure"), this theorizing and speculation are likely to remain buffered from real feeling, maintaining the habitual structure of a status quo.
When ones energy actually changes from hearing something and taking it in, Inner Work is occurring right in the moment. Inner Work is not something one must go away to do. Solitude can help with focus, but it is important to learn how to stay with and true to ourselves while relating to others.
One who is wedded to a status quo is challenged to flex and adjust in order to take in influence. Similarly, one who over-flexes and over-adjusts without a clear sense of self also has trouble maintaining positive influence, if they take it in. Any new program is quickly overwritten by whatever happenstance influence occurs next. This derails intentional positive influence and functions, if covertly, as a rigid status quo.
Without the precious step of internally working new understandings against (like rubbing against) the realities of life, with presence, self-observation and openness, one returns to status quo, which is often constructed by opinions, unexamined beliefs, and assumptions. Sensing and feeling are not adequately informing experience.
Someone who remains tightly compartmentalized controls the scope of influence so that results of apparent Work do not actually create change. Think of someone who is pretending to eat, cutting up the food and circulating it around the plate. He or she may want the appearance of or credit for Work—without its actual accomplishment. Time and energy are expended but the status quo remains untouched. Such a person may work at Working, and even receive support and attention for the same without taking things in deeply enough to stimulate transformation.
Rigid people can be draining to those who speak and listen with committed focus. Our words are lost instead of being mutually invested in the relationship, gaining value, interest and momentum over time.
My greatest joys are sharing with insightful friends as we hold and develop one another's perceptions, deepening shared learning and stimulating mutual growth. Our conversations become a part of us as we cherish elements of our exchange over the course of months or years, keeping parts of our conversations on tap and developing shared humor.
Learning to take influence intentionally and to be intentional about our own influence on others increases both our sense of self and our experience of real intimacy with others.
What do you do internally when you want to open yourself to influence?
Are you confident when you invite influence that your sense of self and your power remain intact, or do you feel a need to deflect?