"Whenever we work through a particular layer of our personality, the issues of the next layer automatically present themselves." (From "Understanding the Enneagram," by Don Richard Riso)
This fact can, frankly, be annoying, especially if we are trying to achieve a particular state or condition. It tends to pop up when we are making progress—and feel like a setback. We may then feel like we are NOT making progress, but the emergence of that next layer IS a sign of progress. One may feel weary and frustrated at working diligently for a breakthrough, only to confront the constellation of issues at next layer of personality.
This new layer often consists of things we believe we have previously handled. In this case it can be a deeper expression of the familiar issues. The related challenges and wounds may be familiar, yet as we enter more deeply into the territory, it may be constructed somewhat differently.
Sometimes growing and confronting challenges can show up like climbing stairs, since we tend to stabilize at a plateau before hitting the next challenge. We may experience these figurative stairs like climbing, as in increasing achievement, or like heading deeper, down into core Beingness.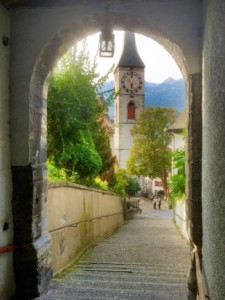 Like stairs in an Escher painting, these directions and processes are occurring at the same time. Which way they are going may be primarily a matter of how we are looking at it at the moment.
The work going down and in often involves confronting any prior trauma. Trauma causes rigidity in the personalty. When we can relax our defenses against encountering our historic trauma and accept it, we heal, becoming freer and more flexible in our responses to life.
In the stair metaphor, encountering inner or outer challenges can be like going along the tread of the stair and hitting the wall of the ascent or decent, which symbolize challenges that require a shift in awareness to effectively negotiate. Periods of stabilization—symbolized here by the tread—are required to integrate learning into life. These periods can be short during times of rapid growth.
During quick growth we need to take advantage of stabilization periods to intentionally rest and recover. Saying, "Phew! I'm glad that's over!" is natural but can be ill-advised—unless we are equipped to gently laugh at ourselves when the next layer shows up. Looking for that next layer is savvy, by observing objectively so we don't manufacture it from expectation.
When we become accustomed to a certain level of development, dipping back into previous issues or backsliding so that our experience, comfort, and performance are not what they have been can bring up distress.
The Path is a labyrinth. We seem to be getting close to something and then find we are far way, or visa versa. These metaphors describe certain kinds of experience, but they break down and our experience changes when we surrender to life in the moment without the need to fix or change ourselves. The descriptions are useful only if they help us to bring in light and increase self awareness.
How do YOU experience the path of growth?
What is your balance between seeking to grow and accepting yourself?