"No sooner does man become the creator of the drama of his dream state through the projection of his dormant impressions, than this very projection of his own dormant impressions reflects his past as if it were really his present, and man, finding himself involved in this drama, gets absorbed in his past while still maintaining his past to be his present."  ~Meher Baba
This quote may initially seem convoluted, while it is actually quite lucid. It is structured in the same way the energy kind of bends when we are DOING what the quote is about. That energy structure makes the description more vivid, once we can wrap our perception around it.
Perceiving this evokes some of the elements of looking at the bottom half of your arm and hand under water. You see the illusion of disconnection between body and arm as the image is displaced by the view through water. The hand seems to be the wrong size and angle. It's a bit confusing. At the same time you can SENSE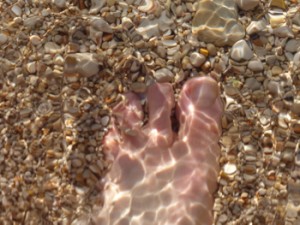 that your arm and hand are in correct relationship with your body.
When we are involved in our pasts and taking them to be the present, a certain amount of distortion of the current reality occurs. This displaced reality often feels normal or continuous. We might say this is what happens in a dream; things that are bizarre when awake seem normal. Unlike correctly sensing that your arm in water is still straight and continuous, the illusory, shifted past-in-present can be a compelling "reality," displacing the fresh, clean, present moment and casting that awareness into the background of perception.
As we begin to wake up into Presence, we may begin to notice when we are becoming absorbed in the past, replaying things that happened before and projecting them out like overlays upon the faces and events around us.
Have you noticed yourself doing this?
Re-live your awareness in that moment. Note that you can tell The Observer part from the parts of yourself, and of your experience, that you are observing.
What do you notice about when you are present to this awareness?