The energies are quite intense these last few days and lot of people are feeling emotionally intense. Kindness, human connection, and simple action help with this type of energy.
This morning I felt ready to blow a gasket after several full hours trying to get customer service help for an item I purchased and found defective. The phone system repeatedly disconnected me after long holds. The "chat" option led to useless and frustrating non-solutions. The email function on the website disappeared my email when I was almost finished, and so forth.
The problem with this kind of modern aggravation is that it is meaningless, draining, and since there is no possible target for the frustration, it amplifies feelings of helplessness. We deal with way too much of this kind of thing, wedged between the indifference of machines and the incompetence of people trained only to do something that's not what we need.
Lately many of us are concerned or anxious about what is going on in the world, and don't know what to do about it, making any additional frustration and helplessness hard to bear.
Sometimes small things can make a big difference in how we feel. Here are a few things I've done that reduced pressure and increased my sense of meaning and connection:
When I finally got a good customer service person, he was comfortable letting me express my frustration.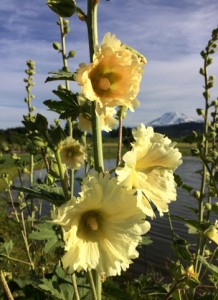 Talking to a real human about my actual experience helped. I thanked him, told him they were lucky to have him, and offered to tell him a joke. He loved my joke, and said I was the only person in years of service who had told him one.
Authentic interchange is meaningful and relieves stress. Meaningful interaction usually requires authenticity, but it doesn't require knowing someone.
I make it a point to ask for the person I like best at a business I order from weekly. This small adjustment makes the routine task more fun and connected when it might otherwise be mildly annoying. It adds humanity.
Out of business envelopes, I used a nice greeting card to mail my state taxes this quarter, including a kind note to the person at the department, just to shift their day a bit. Remembering one another's humanity and intentionally being kind is meaningful.
Doing spiritual practice helps sustain meaning. It helps more if we can bring the intentions of our practice into day to day interactions.
Doing something real helps relieve stress and anxiety. Here are some examples:
Do physical work. Mow the lawn. Get your heart rate up and sweat. You can see things getting done and this has inherent meaning. It relieves stress. It saves you money.
Rearrange a room, closet or drawer. Bringing new order to something in front of you increases your sense of control, helps with the need to change or improve something, and decreases helplessness. It makes you feel better about something.
Walk to the store. Go hunter-gatherer and find food with which you can intentionally and lovingly nourish yourself. This has inherent meaning. Eating kindly relieves stress much more than binging or using food for entertainment. Learn to prepare your food with intention and kindness.
When we get stressed, we tend to pull away from what is in front of us and let things back up, like dishes or laundry. They seem unimportant. Then the environment contributes to the stress. Getting into simple action taking care of these things may seem trivial or meaningless, but actually doing them generates positive momentum, making it easier to do the next thing. Getting things done gives you energy. Take care of what's in front of you, and if you can, do something that makes a difference in the world. Don't let feeling like you need to do something important put you in deadlock.
How are you doing out there?
What are you doing to relieve stress?