What Interferes with grounding?
Just as headaches can originate from a numerous different sources, such as neck tension, toxicity, blocked emotion, eyestrain, allergy, etc., inability to ground can express a number of internal or physical states and conditions.
When speaking of scientific or electromagnetic grounding, interference comes from: Having metal, plastic, rubber between us and the Earth, and from electromagnetic pollution from appliances, computers, cell phones, high intensity power lines, hair dryers, air travel, etc. Those who are sensitive to electromagnetic influence become ungrounded during exposure. Since we live in a sea electrical influence, we may not identify the issue. If you feel or sleep a lot better out in nature or on the ground, electromagnetic pollution may be an issue for you.
A number of different types of issues interfere with "grounding" with respect to our ability to get into our bodies and allow energy transfer, and sensing connection with the Earth.
Sensing subtle energy requires concentration. One may have trouble grounding due to health issues, postural or structural problems such as upper neck misalignment, or exhaustion. Anything that interferes with concentration can interfere with grounding. In addition to exposure to electromagnetic pollution, this includes nutritional or chemical issues. Deficiency in stomach acid, for example, makes uptake of minerals difficult. Inadequate supply of minerals weakens the body's electromagnetic fields, making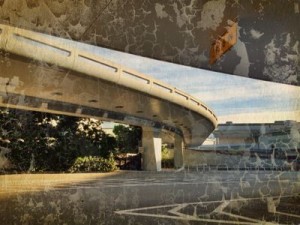 the person more susceptible to external influences.
Following digestive issues, I struggled with grounding for years. After trying my best to follow various people's advise I eventually became annoyed when people told me "just ground yourself," or "grounding will take care of that," as if it were something I could simply DO. If I inquired, they'd tell me to visualize tree roots going into the ground. That did nothing for me. I started to feel shamed and frustrated and quit asking.
Since then I have seen quite a number of people who were unable to ground. I have seen some of them become frustrated, confounded, and even ashamed around people who ground themselves as easy as falling off a log. Those who find grounding obvious and natural find it easy to return to or accentuate with simple visualization–like the typical tree roots into the earth meditation. For those with issues related to grounding, trying to do this can be vexing–and what it really IS may become something of a mystery.
Over time I have received, through my healer and through intuitive direction, various methods of grounding that usually work with people who haven't been able to ground. Some techniques work immediately. Other take practice. How energy works with an individual depends not only on the technique, but on what the exact issue is, the person's physical and energetic condition, and their aptitude at working with energy.
Over the next few posts we will explore in detail issues with grounding that I have experienced or observed in my practice. Even if you ground easily yourself, understanding these issues can provide a window into other people's experience, increasing your understanding about how energy works. Exploring grounding issues illuminate a number of important energy dynamics.
Is there a grounding practice that works well for you? If so, what is it?
If you have difficulty grounding, what do you think it is that interferes?