What happens to our energy when we 'go out to' others, become overly sympathetic, 'over-merge' with another person or a group, give ourselves away, get drawn in to interactions that do not serve us, do more for others than is healthy, or get 'triggered' and begin to dissociate?
These unintentional behaviors leave our energy fields patchy and thin, riddled with holes, or partially unoccupied, leaving space for 'squatters' (like in an empty home). This type of condition creates erratic energy connections with others.
Unintentional energy connections spring from our personal issues. They do not express our preferences or foster healthy intimacy.
The behaviors mentioned above cause energy to leak from us into the fields of others. This may or may not compromise us, depending on our own field strength and what happens to be going on with the other person when we do it. Let's say it "leaves us open," literally and figuratively.
A bit farther below are some types of interaction that can lead to unintentional energy transfer. I have broken them into categories. Some kinds actual of interaction reflect issues that cause 'leaking.' Things we all do inside our own heads can also create energy openings or connections. These connections can be constructive, neutral, or problematic. The key is to notice and have a choice.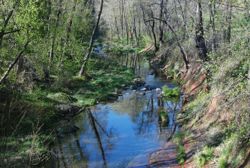 The maxim: "Where your mind goes your energy follows" applies here. Note that thinking about people creates connection. This may seem sketchy to some people but I have several friends who will call me, or visa versa, EVERY TIME we focus on one another with feeling, whether it has been a few days or a few months.
The mind has been referred to by a certain spiritual master as, "A public well."
Thinking is an interaction more often than we care notice. I have seen strangers respond bodily to my thoughts about them, and realized I was thinking too loudly or judging. The stronger our will and concentration the more important it is to watch what we put out.
I am do not suggest neurotic self-consciousness about your every thought. That produces its own kind of inner 'noise' and leads to suppression. Notice instead when you are putting out energy, and learn to manage your energy instead of dwelling on your thoughts. Learn to think inside your own space instead of projecting.
Examples of conditions that can create energy contact:
Emotion-based
Compassionate desire to help, with insufficient energy boundaries
Over-concern for another person, without adequate grounding
Inappropriate care-taking
Worrying about someone
Worrying about what others may think of you
Resentment, hostility, hatred, guilt, etc.
Any other emotions (including positive) that cause you to project yourself into someone else's space
Vacancies or hole in our energy fields from emotions or issues we push away or deny
Mind-based
Judging another person creates a link to the energetic frequency of the behavior upon which we are focused
Conversations with others in our heads
Having something we need to say and not saying
Intending to do something for or with someone and thinking about it without acting on it
Body-based
Body contact, especially if it involves energy transfer
Hugging
Training that involves touch
Healing work
Sex
Take care to associate with people with good energy hygiene.
Resonance-based
Going into rapport/resonance with someone who has energy that is not theirs or who has disowned emotional energy in their fields
Running an emotion that matches the energy in someone's fields
"Matching pictures"– which means that something unresolved in your history, one of your emotional triggers, or an incident you react to has the same resonance as energy the other person is carrying
Note that energy easily transfers over the telephone when conditions set up sufficient resonance
Moving from a defensive stance into personal growth depends on taking responsibility for the INTERNAL reasons that we take on energy.
What habits, traits, or behaviors make YOU vulnerable to picking up energy?
When you notice the potential of picking up energy, do you do seek to protect yourself from the other person or to shift what you do inside to minimize your vulnerability?