World changes that offend our sensibilities and values can overwhelm our ability to adapt, leaving us with diminished vitality and weakening immune responses. Current energies and world changes are bringing up a sense of being wounded, overwhelmed, out of control, powerless, and/or hopeless for a lot of people. Last night one of the strongest, clearest people I know said he wanted to hide under a blanket.
When we get overwhelmed, confused about our values, or depleted, organizing moment-to-moment activities often becomes difficult. Retirement can also cast one into the odd mire of not knowing how to organize one's time, activities and priorities. No matter how it comes about, not being sure what to give value to takes the wind out of our sails.
Meaning, purpose, and motivation are enlivening and energizing. They give life rhythm. They are intimately related to our values.
An inner call to live out and actualize our values and ideals contributes to overwhelm. We feel we must DO something but are not sure what to do, where or how much to give, or how to make a difference. Reconsidering values brings up conflicts that challenge or alters our concepts about ourselves. This takes a great deal of energy. It is important at such junctures to step back before we step forward, to consider whether or not any particular action calls to us or has our name on it. Once we detach a bit it is easier to sense whether or not we are truly called to any specific action.
Not having a sense of what truly matters to us or how to move forward is debilitating. Our energy cannot rally. Uncertainty is tiring.
Uncertainty can make it hard to organize ourselves to do anything, to stay well, or to recover from illness. When we are overwhelmed or cannot find a clear sense of how to move forward into life, returning to foundational self care is essential. We need a manageable, concrete priority. Self care is an excellent priority. Intensifying self care can serve as a temporary goal.
Learning to be kind to one's self is healing. I am not talking about indulgence, although healthy pleasures can be kind. I am talking about the types of kindness that don't have a backlash. Here are a few examples:
—Find and feel into any places inside that hurt. Accept the sensations and emotions you encounter by allowing that they are there instead of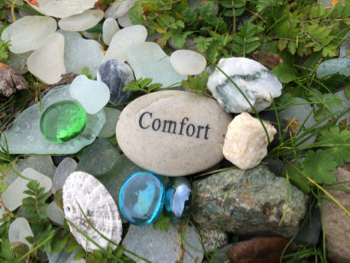 rejecting them. Intentionally breathe tender compassion and love into those places, feeling them, yet gradually filling the body and heart areas they occupy with kindness and gentleness.
—Nurture yourself with the clear intention of making yourself feel better, not by numbing or distracting, but by building yourself up with excellent nutrients and kindness.
—Don't force yourself—invite. Alternate doing things that will improve your conditions, however small, with rest, nourishment, and gentle exercise.
—Lie on the floor and stretch a bit.
—Walk: It puts your body in rhythm, which is strengthening and reduces stress.
—Face losses squarely and grieve if you need to. Sometimes creating a loss that you can control is therapeutic. Getting rid of something that is broken and can't be fixed, throwing out a plant that cannot thrive, cutting down a sick tree, or giving clothes you don't wear to charity are ways to concretize a sense of loss—constructively. Constructive loss allows us an avenue to move though our feelings and opens the way for something new.
—Create rhythm in your life by keeping some activities steady and consistent, at the same time every day or week. This may sound boring but it is an antidote to chaos and overwhelm. Rhythm helps us to keep moving instead of becoming further overwhelmed by having to determine what to do all over again. Rhythm can make the difference between being productive and feeling stuck.
Here are additional suggestions for creating a short-term sense of purpose to give you focus, rhythm and organization when you don't know what to do or you're going through transitions:
—Aim to give yourself a clear focus with a strong priority. Pick something possible now, as a spacer until you can deal with the longer term.
—Clear the decks so your life is smooth and things are open when you get busy down the line. Do the things you have been putting off. This can bring relief and make you feel virtuous. Get rid of anything that doesn't serve you in your ongoing.
—Face anything you can finally finish. Confronting and removing the obstacles brings a sense of completion. It makes us feel stronger and more clear. These can be small things like straightening out a billing issue, returning a product, working through piles of paper, or doing the laundry. Taking on the ordinariness of these tasks can help us feel unstuck and provide a sense of continuity. We can give them meaning by noticing that it is a kindness to ourselves to reduce our sense of burden and overwhelm in any small way we can.
—If you can manage it, identify something you have been wanting to do for a long time but have not been able to get to. It could be a project around the home, an online training you paid for but did not view, or digging a garden plot. Make this project a priority. Welcome the activity as a way to organize yourself.
Which of these interventions speak to you at this point in time?