I was doing Inner Work walking in nature, and noticed that I had a few Inner Child inclusions. I made this term up, and find it apt. I am referring to a phenomena that shows up in some types of energy clearing—although most of the fine healers I have seen are unaware of or do not scan for them.
Fragments of another person's Inner Child become drawn to us when the person has unresolved issues at a particular age and views us as a source for those needs. If they disown that need, and are unaware of the need at the moment, and if one is sympathetic or identifies with their need, the related energy can enter our body or energy fields. We include it as if it is part of us, hence, an inclusion.
Conversely, we can call it an Inner Child exclusion if we have given over a chunk of our energy to someone else. Giving to someone else the energy of a part of self that we are not owning excludes it from our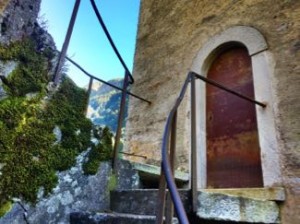 awareness, hence an exclusion. One healer I know refers to disowned or disparaged parts as "exiles." He is talking about the psychological aspect. I am talking about the energy.
When energy that belongs within becomes attached to or projected onto someone who is seen as a source of need gratification, these chunks become exclusions for the person who disowns them, and inclusions to the person who carries them.
The problem with pushing these chunks away is that doing so maintains an arrested state of development. It is difficult to work effectively on issues when the related energy is not present in the body—along with the sensations and emotions that are connected with it. The problem with taking them on from someone else is that when we think they are part of us we can work and work on related issues and sensations without making much progress. We cannot change something that does not belong to us, so we can find the issues highly resistant to change.
Energy and issues show up in layers. We can clear everything we can find at a given point in time, then after significant growth, discover energy that was not previously accessible. It becomes possible to clear this energy when we get down to the strata of experience wherein that energy has been lodged.
Energy anomalies are always related to our issues. As with psychological issues, they do not show up until we are ready to grow through and beyond the related issues or control previously obscure elements of our personalties.
When I first learned about Inner Child inclusions, I removed all the inclusions I could find. Following periods of intensive Inner Work I occasionally find chunks that were buried and simply could not show up before.
Noticing energy related to complex issues requires dedicated focus. I do my best extended Inner Work walking in nature, when very few people are around. Then I can till the soil of a particular issue by turning it over and over, looking at all the ways that an issue appears in my inner and outer worlds, sensing into and working with the related energies. Movement helps air things out and keeps me grounded and in rhythm. Natural beauty keeps me from getting restless or uncomfortable, like I might be sitting for an extended period. New places and beautiful views give me perspective, elevate my mood, soften my heart, and remind me of that the world contains pleasant options.
As I walked I through out some chunks that had been drawn to me. This should be done lovingly, returning them kindly since the person who disowned them needs to accept them back and process something difficult.
A beginner's error is to dis-identify with parts that belong inside, imagining that they originate from someone else. Throwing out parts that belong inside creates other problems. Be circumspect and willing to own your "stuff" if you try clearing yourself.
Do you ever feel unreasonable and awkwardly responsible for someone's needs, in an odd, preverbal and stuck way? You may have inclusions.
Do you find that yourself unable to penetrate with your awareness into an aspect of your Inner Child, even through you can usually access those parts? You may have exclusions.
Discerning inclusions and exclusions  is subtle and complex work, not easy unless you regularly practice energy clearing and Inner Work.