The extent to which tips on energy protection will be useful to you depends on quite a few different factors. How much trauma you have endured, your exposure to people who modeled good boundaries, your sensitivity and the degree to which you are empathic will have a bearing.
A tip must correspond to your current capacity for self observation and your level of energy mastery to be useful. Different tips work in different moments.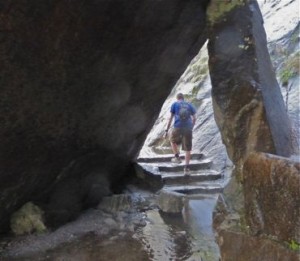 Techniques do not stop energy from coming in if we open the door to it ourselves, intentionally or otherwise. In stories, granting permission for a vampire to enter your house allows it to enter at will until permission is intentionally revoked and clear boundaries are established. Similar principles operate in the world of energy. If something enters, some part of us is in agreement or in resonance with it. This can be really annoying when we don't know ourselves well enough to be aware of what we are letting in or why. Thus the universe makes self awareness a high priority for sensitive individuals.
Blaming ourselves, or flailing around in confusion about 'why' we pick up energy just muddies the water further. I produced the Inner Work Series and the Pearls to Pain Series in this energy-savvy context to assist readers to develop the personal clarity and self awareness to learn to sort self from not-self and gain better boundaries. These series are one huge tip. This is not an easy fix, but it produces permanent life results.
Energy transfers for various reasons. Sealing ourselves off is not a real answer. Using our sensitivity for personal development is meaningful and satisfying.
Given the above, here are various tips that help minimize unintentional energy transfer:
Focus on and breathe into your hara/belly center and bones
Ground yourself as well as you can
Be careful about trying to help people who are not asking for it or flying out of yourself to others in sympathy
Take responsibility for your sense of safety by working with your fields, setting boundaries or withdrawing instead of trying to get others to make you feel safe
Discern clearly between your needs and the needs of others
Resolve issues that arise clearly and directly instead of stewing about things
Notice the way your negative judgments send out energy toward others–and remember that energy can transfer back to you along the link you are sending out
When you feel drawn in to someone's story, tell yourself, "I am HERE; that person is THERE," and notice the space in between you
Remind yourself that just because someone is carrying energy you don't want, you do not have to pick it up
Scan and clear yourself regularly, and get assistance if you cannot
Challenge yourself to master your energy in difficult situations instead of fearing or resisting them
Make your energy clear and transparent so energy goes on through without stopping
Visualize your energy fields and strengthen them with light
Let your energy fields be strong but bendable, like spider web
Allow your fields to flex, like pushing a finger into a partially inflated balloon, when someone comes near (instead of imaging them as being broken)
Keep your fields smooth and intact so they are like Teflon
Do spiritual practices on your breath to raise your resonance to a higher pitch
Practice keeping your resonance at your own pitch instead of matching someone else's when their energy is compromised
Which of these tips is most useful for YOU at this point in time? Why?
What tips can you add to this list?