The afternoon following my injury I took my previously scheduled shuttle from Cesky Krumlov to Vienna. After small towns, the city was big and sprawling, but roomy enough to give me a needed break from throngs. Taxis were largely lacking. Even Metro and trams stations required a lot of hobbling. I tired quickly.
The next day I waited for about ninety minutes in a huge and crowded hospital. It took the doctor about ninety seconds to pull the drain from my wound, put on iodine salve and apply another bandage. He, too,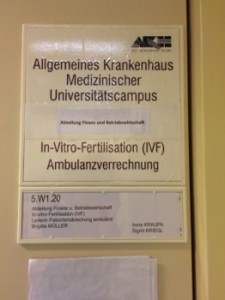 warned me about infection and necrosis. I found it edifying that hospitals both here and in the Czech Republic use iodine ointment rather than antibiotics, even with such concerns.
I had to pay 250 euros in advance,and they said they would send me a additional bill. Hoping to get finances clear in person, I was directed tried to an office with a big sign on the door: "In-Vitro Fertilization." That threw me off for a while. My efforts were fruitless, but when I got the bill a month later, it a credit for more two thirds of the advance.
The next two days I gaped at architecture that might have been built for Olympian gods. Consider what it took to build massive, exquisitely decorated buildings for public use! The attitude of investing intention and funds to inspire, stimulate and delight people for hundreds of years seems like a miracle in these days of cheap and fast. This architecture establishes an atmosphere that invites music,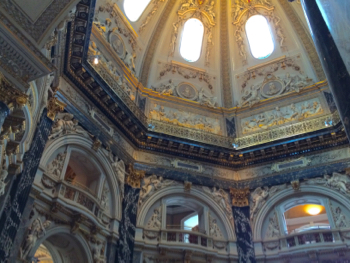 art, and poetry. It is not just an appearance. It sings energy. The Viennese street musicians seemed to have slipped out the back doors of concert halls.
The Kunsthistorisches Museum is enormous, widely varied, and world class. Standing on the inside staircase, staring at the decorous galleries and arches of the building itself was almost as pleasing as looking at, for example, a pitcher the size of a loaf of bread, carved from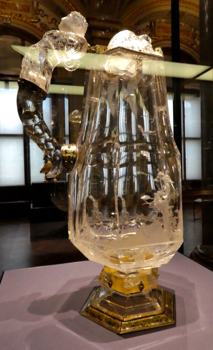 a hollowed-out quartz crystal, its handle shaped like a goddess. The Museum houses some astonishing art and famous paintings.
The old masters portrayed turning points in history, bloody biblical stories, and events from mythology. Quite a few famous paintings depict disturbing scenes, such as rape, incest, murder and betrayal. The realism, dimensionality and lighting in some of these magnificent works makes challenging subject matter striking, meaningful, and thought-provoking. The great beauty with which these scenes are shown helps us to receive them rather than being repelled. Being impacted deepens us, so these works contribute to culture.
Scenes of the potentially trivial accouterments of daily life, handled masterfully, also become precious. A real work of art helps us to awaken perception and appreciate life.
Travel supports looking at the world like art. The temporariness invites detachment and a heightened sense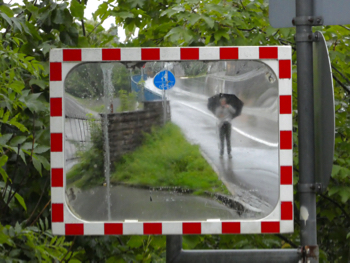 of value. Impermanence is a gentle reminder of our mortality. Remembering our mortality helps us to see exactly how things are. We seek to imprint what we see, via memory or on camera cards. We seize the moment just as it is since we may never return. Things that may seem mundane to those who live with them are discoveries if we've never seen them. Anything that wakes us up to the preciousness of the moment has value.
For me, beauty and mystery inspire and awaken. Give me a camera and an intriguing or lovely place and the moment consumes me.
How do you feel when exposed to disturbing art, rendered with great beauty?
What awakens you to the preciousness of life?