Grasping below the knee to apply pressure, I stared at my shin in disbelief. A chunk of skin had been gouged out. And I think I was looking at the lining of my tibia before blood obscured my view. Stunned, I picked a bit of flesh from my sock, feeling weird about throwing a piece of myself onto the cobbles. (I'll spare you the gory photo.)
Strangely detached, I observed my denial: "The bleeding will stop and I'll be able to ride back," and "It may hurt a bit, but I'll need to get up the hill to the train." Blood ran into my sock.
Still clutching the leg, I hobbled into the monastery office. The staff assumed and then dropped their "What-do-you-want—you-already-saw-the-place-and-we're-about-to-close" faces as they got a look at my shocked face and bloody leg. I asked about bandages.
The woman pushed me onto a bench out front while the man rushed off and returned with a first aid kit. They were scary sober. They wanted to take me to the hospital. Fighting shock, I was not ready or able to decide. Stitches didn't make sense if there was nothing to pull together. I needed to get back to town and regain my balance.
My helpers managed to cram the clunky bike into the back of a small station wagon and drove me within 500 feet of my hotel. There were too many tourists to get closer. I used the bike as a crutch. I hurt.
Somehow I got a cab to a pharmacy. They had no butterfly bandages, large bandages, or anything antibacterial. I left with an iodine solution to clean the wound, gauze, tape, and an over-the-counter pain killer.
I was starved by the time I got back. Tour groups were overwhelming the restaurant about eight feet from the front door of my hotel. They were booked until after 9 and said they would run out of food. No to-go options and they wouldn't loan me a plate.
Fortunately that night happened to be my hotel splurge night—my only night with a view and a bathtub. And plates! The waiter relented. He would give me food if I brought a plate. Using handrails heavily, I brought a plate twenty minutes later. He filled it with fire roasted chicken from a cavelike hearth, and salad. I took a nice photo of the lovely view and meal.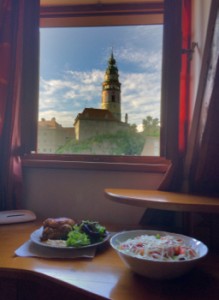 After relaxing in the tub with my leg hanging out I put on my glasses and pealed off the bandage to get my first good look at the wound. To my horror, a big V of skin was pulling up my leg. The wound had torn as the skin retracted. This had to be stitched! I diluted iodine solution in a cup and washed the wound, shaky hands dropping the cup on the tile floor, which was peppered with shards. Bleeding again, cleaning the floor was out of the question. And I needed a scissors to cut gauze.
I tried to call the front desk. My phone didn't work. There was no room phone. Arm over arm on the hand rails, I hobbled downstairs. No one was around.
Finally I knocked on the door across from mine. Two women who didn't speak English gaped at me. I pantomimed cutting the gauze with a scissors. They conferred and offered me a nail clipper, which I declined. After much gesturing and conjecturing, the women realized that I needed help picking up the cup shards. They gave me four normal band aids, which I criss-crossed, pressing together the edges of torn flesh so they would be close enough to stitch come morning.
I emailed my healer and my spiritual Teacher, called my best friend via internet, and went to bed.
Although I hate hospitals, I almost enjoyed my visit to the Czech hospital. I was out of there in about half an hour, having spent forty euros to have the wound stitched up by two nice women in a bright, teal tiled room with high ceilings. They put in a drain and said I would need to return in two days to have it removed. They warned me that the injured area of the leg was known for getting bone necrosis. I was supposed to rest it.
I was grateful that I could hobble some, although the stitches pulled uncomfortably if I walked on uneven surfaces—like cobbles.
Did you ever feel as if part of you had planned ahead for something you didn't know would occur, or that a difficult experience was part of your learning curve?
How do you feel about receiving help from strangers?