On a day trip to Sedlec Ossuary in Kutna Hora, I met a wonderful couple on the train platform. We shared a compartment—and most of the day. My new friends were expats, living in Thailand. They work with a Christian Mission, organizing medical care for Thai locals.
We teamed up on navigation. The three of us managed to figure out how to get to the Ossuary and several other attractions, despite unexpected details. We arrived at Kutna Hora via a back route, crossing a lovely park below a castle.
Sedlec Ossuary is a World Heritage Site. Here are a few quotes from Wikipedia: "The ossuary is estimated to contain the skeletons of between 40,000 and 70,000 people, whose bones have, in many cases, been artistically arranged to form decorations and furnishings for the chapel."
"In 1278, Henry, the abbot of the Cistercian monastery in Sedlec, was sent to the Holy Land by King Otakar II of Bohemia. He returned with him a small amount of earth he had removed from Golgotha and sprinkled it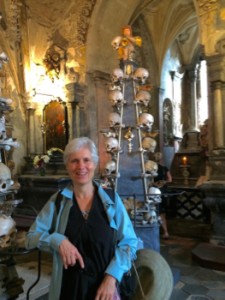 over the abbey cemetery. The word of this pious act soon spread and the cemetery in Sedlec became a desirable burial site throughout Central Europe.
"In the mid 14th century, during the Black Death, and after the Hussite Wars in the early 15th century, many thousands were buried in the abbey cemetery, so it had to be greatly enlarged.
"Around 1400, a Gothic church was built in the center of the cemetery with a vaulted upper level and a lower chapel to be used as an ossuary for the mass graves unearthed during construction, or simply slated for demolition to make room for new burials.
"After 1511, the task of exhuming skeletons and stacking their bones in the chapel was given to a half-blind monk of the order."
Neither I nor my companions found the site macabre or dark. The bones were handled with an intention of honoring the dead, and, we agreed, the atmosphere was almost joyful.
The weather suddenly changed from hot to wet on our way back. We were on a train platform, making a transfer that hadn't been necessary on our way there. An enormous gust of wind blew in a fierce rain squall. I was instinctively heading for the stairs when everyone on the platform began to scream and shot for stairs, instantly soaked. Heavy squalls continued as we parted in Prague. People were bunched up just inside the exits from tram stations, waiting it out or working themselves up to making a break for it.
I sprinted from doorway to doorway to awning, aiming to be on time for a dinner date with a semi-local spiritual dance leader. She happened to be in Prague for the afternoon. After removing and wringing out my socks in the WC, I was pleased to meet her, and another woman whom she had been mentoring for some years.
The weather changed again during dinner. The leader caught a train home. By sunset, the other woman and I had taken a wonderful walk along a viewpoint ridge, and were sharing medicinal tea at her apartment. She lives creatively, doing her own version of transformational healing. Very tired, viewing her across a small table, I had the interesting sensation that she was another myself.
How do you feel about places that challenge your cultural preconceptions?
Does understanding their history interest or comfort you, or are you more curious about your direct responses to the energy and environment?