The Abbey in Melk, Austria, was not austere. It sported a staggering hoard of gem- and gold-encrusted relics, impressive religious costumes and accoutrements, and a jaw-dropping church like a cornucopia of angels, statues, precious paintings, and mysterious symbolism. The Abbey occupies the highest plot of land with the best overview of the area—a great spot from which to literally look down on the commoners. This opulence, in its time, seemed to speak more of the love of power and wealth than of religious sanctity or charitable service.
Once a visiting place for Viennese kings and queens, Melk Abbey became considerably more modest as politics and religion changed over the last few centuries. Its majesty is now open to thousands of tourists a day, as the Abbey preserves and displays its treasures.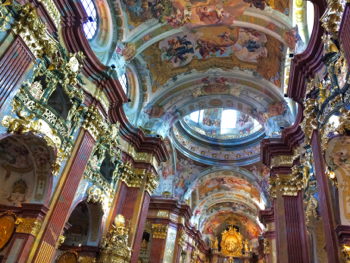 Whether or not Saint Francis would have approved of accumulating them, I loved seeing this astonishing and historic expression of human values. Viewing this slice of history through a modern lens made me question those values. If the Church had not accumulated huge gems and gold, where would they now be, and of what use? At least people can marvel at them in the Abbey, and observe how they were used to impress and perhaps control the populace. It's not like one can eat them. And they aren't locked up in someone's safe where no one can see.
History, architecture, art and beauty are interesting and even edifying to experience. Travel stimulates growth not just from the people, situations, sights and things we encounter, but from the energy of location.
New York, for example, is masculine and electric. Hawaii is feminine and magnetic, earth and water. Italy accentuates the second chakra. If we visit these places when their energy serves us, the experience is very different than going when the same energy runs counter to our needs.
Spots on the planet, my Healer tells me, are like acupuncture points on our bodies. The energy in each spot flows a bit differently and has a different impact when we are there. I have not been drawn to analyze this in detail, but I do try to sense where I feel drawn to, to pick a timing that feels right to me, and to absorb the influence of the land while I am there. Sometimes I find myself drawn to a location because the specific energies of that spot on the planet are necessary to me at that point in time.
As we saw earlier in this series, location and the energy of a place can evoke past life experiences or stimulates specific learning. Travel is not always fun or pleasurable, but if we remain open to the world as we travel, it provides a different set of experiences and helps us to know ourselves.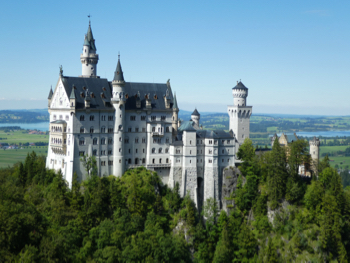 The last jaunt of my journey took me to the two castles in Fussen, just over the Austrian border in Bavaria. The throngs were seriously bad, making for multiple-hour waits to enter, and an hour-long traffic jam between the tiny town and the castles. I did not especially react to the crowds. Part of this may reflect my Inner Work. The fact that these crowds did not do the staring-like-you-don't-exist thing helped immensely. The castles were lovely, but I could have forgone them for the trouble. I couldn't hike, bike along the river, or go to the local hot springs with my stitches. It rained. I was surrendered enough that I didn't mind.
Are there specific places to which you are drawn?
What is it that draws you?
What is the energy influence of a place you have been?
How did the area stimulate you, and what did that contribute to your life at that point in time?