For several days my only verbal exchanges had been brief, impersonal and strictly practical. Being silent while shoulder to shoulder with talking people who did not even glance at me began to feel like living in a different dimension. Occasionally I actually spoke to people without being noticed. Sometimes I felt sort of helpless or as if I didn't exist. On the other hand, when I cannot understand a word people are saying my mind stays quieter; I judge less when I don't hear the content of people's conversations. I like that aspect of travel.
I was on a train platform, making a transfer on route to a new location. The area was deserted, but for a rather extraordinary couple, to whom I was drawn. The lack of throngs seemed surreal. I tried for eye contact and the couple seemed cool and insular. They sat down on the only bench.
Having become accustomed to people not speaking English, I heard myself mutter beneath my breath, "You are very beautiful. It would be good if you had heart." I had passed the bench and was looking down onto the empty train track. As I turned back, I saw the couple conferring with one another. Apparently they not only spoke perfect English but were abnormally alert and had exceptional hearing!
Startled and embarrassed, I made to apologize but my unformed words fell away as they scooted over and offered me a seat. The man's smile was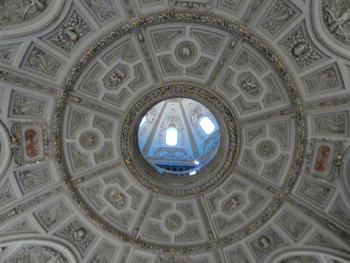 absolutely stunning.
Over the next hour I had the delight of sharing a train compartment and profound conversation with this couple. The man had assessed me quickly and accurately—he worked as a plain clothes anti-terrorist detective. He lived in Cairo and tracked terrorism globally. His lovely wife was a news anchor. They were so young, brilliant, and well traveled! (I got a photo, but it does not feel right to share it.)
The man had an amazing quality of heart. His work gave him the habit of keeping himself tucked in when in public, and staying attentive. I wondered aloud how he came to this work. He had began school majoring in fine arts, and missed entry to a prestigious college by a tiny margin. His father was a policeman. He followed in his father's footsteps, but chose detective work in which he pursued specific missions rather than constantly interfacing with the public. He truly wants to serve.
I adored his amazing balance between heart and intelligence, and the sheer physical beauty with which he and his wife were graced. I was glad to hear they had children.
The three of us had great talks about politics, travel, religion, and racial dynamics. It was difficult, the man told me, to be seen as black by whites, white by blacks, and Muslim by those in fear. He said, "In English places I am Arab. In Africa I am white."
We agreed that people fairly often imagine that situations and issues have to do with color when they do not. Obviously they often do, but race can also be freighted with weight when it is incidental to the situation. It is human to project our issues and fears onto others, and to think they see us as we imagine they do— not as they actually see us. We discussed racial dynamics in police work, in mutual accord. He was loving and open minded.
When he commented on being Arab I said, "Peace be with you" in Arabic and his face lit up. He and his wife were delighted to discover that I say some Arabic Names of God. Arabic contains a lot of complex, useful, and powerful insights about the nature of the Divine. The Names have a kind of resonance that impacts energy directly, unlike English. Those useful tools transcend politics and race.
When the train arrived at my transfer point, the man went out of his way to help me all the way off the train with my bags, even through it was not his stop. His courtliness went beyond keeping me from pulling my recent stitches carrying weight down the stairs. Touched, I now understood an image I'd had right after we met. On the train platform before we spoke, I 'saw' him helping me with my bags. I had no idea where the image came from and found it sort of embarrassing. Now I realized that it had been a premonition.
I was sorry to part company with this delightful couple.
The fact that I attracted this encounter is fascinating, given all of the elements with which I had been working and the odd conditions that gave rise to our interaction. I don't think they would have opened to me if I had not broken the ice with my accidental comment.
Have you ever done or said something you thought was stupid and later realized it was essential?
How do you feel about totally loving people and letting go of them at the same time?