The dream I had Christmas morning speaks to spiritual transformation through balancing inner masculine and feminine elements. Its message is useful to many of us:
I entered a large cathedral with a high, vaulted ceiling into an open chapel without pews. The congregation stood attentively toward the front. As I stepped forward to join, I almost passed a small, ancient woman, seated with her back to a pillar with her legs out in front of her. She was observing me gently. I recognized her as a revered holy woman I had met seven years earlier. I said, "Hello Mother," bringing my hands together in reverent greeting.
"Hello Teresa," she returned. She smiled at my astonishment that she remembered my name after so many years and thousands of pilgrims. In her East Indian tradition, I stooped to touch my head to her feet. She had none. Or rather, she had part of a left foot and no right foot at all. I touched my head where her feet would be, brushing the left with the crown of my head. She winced a bit.
I woke up without understanding this dream, yet knowing that it held a message for me. It felt like a gift. In the way of dreams, its imagery means something different in the world of symbols than what initially occurs to the conscious mind.
Shortly after the dream I found myself in a frustrating situation to which I felt unable to respond. As my frustration rose and crested, the meaning of my dream surfaced on its wave.
The pillar was comprised of two rectangular columns at right angles, so its footprint formed a cross. This shape made it strong and gave the pillar four inner angles where one could shelter. Among other things, the cross represents the point of intersection between the earth (horizontal) and ascending (vertical) planes of experience. The sometimes-painful point of contact between our current realities and our ideals is the "place" where our inner work occurs. It is the crucible that develops self-awareness. Columns also represent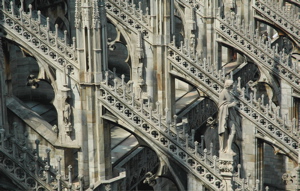 the wood element, which includes boundaries.
The Holy Mother–in this case a common person who had developed herself through devotion–represents the Positive Feminine. She is seated on stone (earth element/grounding), with her back to cement. The cement and vaulted ceiling represent the Positive Male, providing sacred structure and support.
The Positive Feminine is presented in surrender to the Divine. She JUST IS. She does not need to ACT to have VALUE. She is OF value and precious simply because she exists. She is not in self will. She is surrendered to reality. There is no where for her to fall. She is in her bliss– with or without feet is no matter. She receives support at her base from the earth and at her back from what has been build by man.
This image speaks to a real life situation in which I become stymied because it is not mine to fix. When I push too hard I go from Positive Male (structure, initiative, support, boundaries, direction) to Negative Male (over-DOing, frustration, aggression). Or I am drawn toward Negative Feminine (helplessness, passivity, indulgence, valuelessness, destruction through neglect).
Positive Feminine represents surrender into preciousness; non-doing with full spiritual value.
Why does she wince when I put down my head? Why has she no feet?
In my process of awakening so far I have brought the qualities I need in and down most of the way, but I cannot yet fully stand in them. I feel helpless when I cannot move forward, and can find contacting hard realities painful. My work point is to lean into my distress and grow stronger feet, not to force action, but to bring the Holy Feminine fully into life. Then I will have the patience to NOT act when BEing is a better choice.
Message from the Divine Feminine: "Observe yourself, through my eyes of love. I recognize and accept you. When you fully accept life exactly as it is you are not compelled to DO anything about it. Residing in inner preciousness is your place of refuge."
How is YOUR balance between inner Male and Female energies?
Can you move freely from one to the other according to the situation, or do you get stuck in one polarity?