continued . . .
I'm contemplating these things and up over a little hillock comes a golf cart with a couple of people on it. I feel something recoil a bit, and I watch myself and ask myself, 'Am I judging something? Am I making anything up?'
I intentionally stay open. I watch and notice what I feel is an enormous welter of different impressions, all coming in. I'm not referring as much to my impressions of people as much as reading the energetics that show up along with them. And I'm not TRYING to read the energetics—I'm just feeling the energetics of the people through my being, and it feels intense. There is nothing wrong with these two people; they seem just fine. At the same time, I feel overwhelmed experiencing their layers: of mental assessment, egoic levels of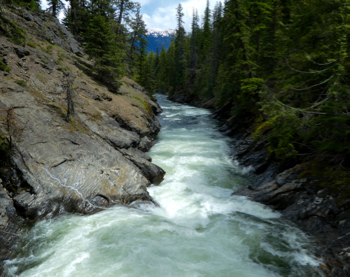 artifice, and layers of social conditioning that stem from how they need to carry themselves based on what they tell themselves and what they have been told by other people and how they think they should be, and all the basic stuff—which I have too, but I may be less conditioned and more aware of it.
At that point I feel a little bit of distance from them, a little bit of alienation, a little bit of sadness about feeling those things. At the same time I know that this kind of thing is something that anyone who is truly a mystic goes through, at least from time to time. I want to feel more love. This feeling of wanting to experience unity is not only about wanting to feel love in the abstract, but of course I want to be comfortable embracing people as they are. At the same time, when the people at hand don't really know themselves or love themselves, the divine Unity and essence within those people is being hidden by all those layers of derivative experience. By "derivative" I mean that it is derived by some process of thought as feeling as opposed to being a direct and complete experience in and of itself, like the bird, or the way a Zen master experiences things. The things we tell ourselves and what we derive from others make up layers or veils by which the divine in each of us becomes hidden from ourselves. It takes so much love to embrace all that and still keep love primary!
At this point I start thinking about my spiritual Teacher because he's someone I've seen do this in practice, not just in theory; embracing everyone on the inside and experiencing unity with them. I know this not from words but because I've sat with him eye to eye in direct attunement, feeling one another with the simplicity of that little bird.  Moreover, after spending time with him I've experienced some of the things that he talks about and apparently experiences.
After my last retreat with my Teacher, I wrote the poem "The Rose," which I put in my blog post on May 7th. I was walking the streets of San Francisco and I felt connected with everything and everyone in a loving way. I did not feel this discomfort about the layers. So there was no sense of alienation at all in my sense of mysticism in that specific state of Being. I ask myself, "What does it take to generate and sustain that kind of a loving state for myself?'
Of course, doing my spiritual practices regularly will aid in that direction. Various fears come up, about how a major shift might change the particulars of my life. I know that fear is normal at this spiritual juncture.
What fears come up for you when you consider immersing yourself deeply in spiritual practice?
To what extent does this fear influence how or whether your practice?