I took a few days out in nature to hike by myself. While I was walking I did spiritual breathing practices that work with the elements—earth, water, fire, air and ether.
I've noticed that when I do my practices regularly, they do produce changes in my consciousness. My awareness and my sensitivity both expand. Sometimes that makes me stop doing the practices, because I become uncomfortable. I'll describe a poignant experience:
I was getting ready to go for walk before going home, collecting my belongings. My interior Guidance chimed in and asked me to sit for five minutes. This directive was not something abstract or particularly subtle, so I was a little bit surprised. I sat down in a chair by a window. The room where I was staying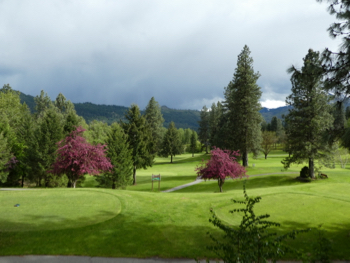 overlooked part of a golf course. So I sat and just looked out the window without doing anything—which is unusual for me.
After breathing exercises and other practices in nature the day before, I naturally started to sense into the elements and into the space outside me, where I could see trees, and mountains in the mid-distant range, and a big expanse of air and atmosphere in between, birds darting around though it. I thought about a practice my Teacher likes: "Consider the plenum to be your own body of bliss."
The plenum is everything that is out there; the fullness of all things in creation. I kept my sensors open, feeling out into all that space, and everything within it. A little bird landed on the corner of a nearby roof. I'm not too much of a bird watcher, but I could see her surveying the same territory that I was surveying. I was wondering what it was like to see it through her eyes, and began feeling her little heart in her feathery body, beating really quickly as little bird's hearts do. She was so earnest, so simple, and so sweet. And she was sitting there waiting, watching, pausing before taking off in flight—much as I was doing myself.
I was noticing that when I expand into the space like that, sometimes even the movement of the wind, particularly the movement of clouds and sometimes strong wind churning through trees seems very stimulating to my nervous system. The movement of clouds can be so enormous and relentless, and so absolutely outside ones ability to control anything; a force, not an object. When I feel that way I scan myself to see whether I WANT to control something. Usually I do not. The feeling is like, 'Something is happening and I'm not doing anything, and it feels powerful and intense, and beautiful in an awe-full way.'
I think it's important to feel awe; to remember our place in the universe. I know other people feel this way sometimes, but I don't know if it feels so intense in their nervous systems, if they take it in. I understand making one's self busy so we don't have to feel life so directly—because it's so huge and can be overwhelming!
Of course stillness is the basis for much meditation and spiritual progress. It increases our ability to be at one with everything. I feel a bit cowardly or remiss when I feel an inclination to shut down or pull away. I'd love to have the courage to fully take on feeling deeper states of unity, but we have to simultaneously be able to feel solid in ourselves and dissolve our sense of self to do this.
Have you ever become sensitized to some type of experience or sensation after doing intensive spiritual practice?
What did you learn about yourself or your practice from this experience?