"Because true belonging only happens when we present
our authentic, imperfect selves to the world,our sense of belonging
can never be greater than our level of self-acceptance." ~ Brené Brown
Exposure to energies that promote rapid spiritual growth almost inevitably brings us up against the that prevent us from sustaining those energies within ourselves. When we are passionate about transformation, we view this as an opportunity to stretch ourselves with respect to these limitations. We are, however, rarely of one mind about it. When the going becomes painful, we are apt to view these challenges as an affront. Here we are, doing our best to be all that we can be, and it feels like we're being tested or tormented, let alone receiving support.
One of my readers brought up what she aptly calls "the universal 2-by-4." I would like to speak in part to those who have experienced sudden awakenings and transformational life experiences which they were not actively courting. My reader was brave and authentic enough to admit that she felt resentment toward God after having such extreme experiences.
I understand. In the face of this kind of experience it is easy to feel resistant to growth, fear of more pain, angry, and stuck.
About twenty years ago I went through an episode of acute spiritual agony. I was mad at God. Even if one kills one's self, I reasoned, one could not escape suffering because it is nearly impossible to step off the Wheel of death and rebirth. I did not recall choosing to participate, maybe back at the beginning of being a distinct, individual soul, or agreeing to the intensity of the challenges. I resented that so much learning comes through distress. Why not through love?
Whatever we believe and however we couch it, intense suffering can bring up rage. On the bright side, rage can assist with transformation. It focuses a huge amount of energy. Rage itself is life-affirming. We do need to use this force toward positive ends.
While I do not hold with rigid belief, I do believe that the urge to grow is part of our nature. We experience fulfillment through growth. We experience fulfillment by cultivating our hearts, and meaning through involvement with The Greater Whole.
The more we feel separate from God, others, the Universe, etc, the more we suffer. When we feel at One with It, we feel better and are more likely to experience meaning. If we cannot feel it now, we can aim to remain open.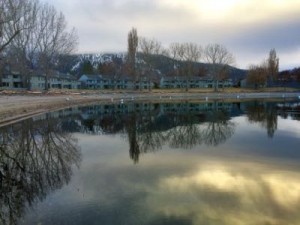 Life is what it is and does what it does. We want to think it could be "fair." We attempt to apply logic, to hold life to human standards of what should and should not happen. These standards were usually taught to us as children. Sometimes we regress when we cannot understand Life with our minds.
Apparently The One Being That embraces Everything does not maintain our biases against suffering and death. Much that we can experience directly, through our hearts, cannot be rationalized or explained. This includes the paradox of Divine Compassion.
Life is a big fat mystery. It full of paradox and both-ands. It does not and will not conform to our expectations. When we resist, we hurt more. I can understand resenting that.
The more I do practices that increase my ability to remain in my heart the more I experience myself as participating instead of feeling done-to.
How do YOU feel about using difficult circumstances to grow?
What brings you a sense of having a choice?
To progress in our Inner Work, we need to be willing to observe
our resistance to reality, our attachment to our self-image,
and our fear. (Understanding the Enneagram)