When it comes to learning to manage energy, let alone coming to grips with suffering, there isn't a quick fix. I find myself drawn to share some personal background before proceeding with other commentary. This will take two posts:
In my twenties and for eleven years, I was intensively involved with a different branch of the mystical school with which I am now linked. A leader's serious abuse of power caused me to leave that school. Oddly, an independent teacher from a path I had never heard of sent a student to find me. This was before internet and occurred totally through Guidance. This teacher did fairly extreme (and fascinating) work with me for about seven months. When our stint came to completion, I became involved with a different spiritual group for seven years.
That group does a powerful fire ritual during which participants throw something they want to renounce into the fire. They caution that this act can put in motion difficult processes necessary to bringing about renunciation. Determined to learn through joy rather than suffering, I threw "learning through suffering" into that fire. Whether or not I was fully in belief, I thought I'd give it a sincere try. My next seven years were even more difficult than the previous. I asked experienced members of the group how to come to grips with suffering. Few engaged my questions. No one shared anything useful, just platitudes or party lines.
During a spiritual camp I had an episode of agony, through which I encountered rage with God. I have heard it said, and agree, that engaging with God in rage maintains a relationship and is cathartic—which creates more possibility than does withdrawing. I did not find it loving to set up Creation so we learn through suffering. I wanted OUT. For those difficult hours I felt acutely that even suicide was futile because one would simply find oneself back on the Wheel of Life, probably in less salutary conditions. I let these feelings arise but did not dwell on them later.
For three years I led a committed small group. We met in secret to evade attendance by superficial persons who permeated the local chapter of the larger group. A significant trauma dismantled this group.
During this period I became involved with a man who began to use spiritual rhetoric in an attempt to force me to caretake him. When the title of a book called, "God Talk and Domination" jumped out at me in a book store, what he was doing suddenly became clear. I practically developed an allergy to spiritual talk.
At this point I was feeling rather defensive toward God. I avoided spiritual groups for more than a decade. I had withdrawn from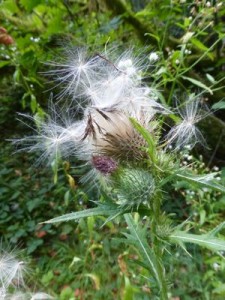 belief. Sometimes I felt that I had lost faith, and yet I could sense it hiding, way down deep and private. This faith was not "IN anything." It stands like a spinning top that rights itself if pushed over. Paradoxically, this faith—for lack of a better word—was completely hidden beneath a wry unwillingness to fake anything or take anything 'on faith.' I came to sense that real faith could not be shattered (it was like water), or lost (it was part of me), or influenced by conditions and circumstances (it did not stand upon them). This was not faith that something or someone would somehow save me, but a kind of internal compass that drew me in a wholesome direction.
I became flexible enough to support people in their spiritual processes, no matter what belief systems they engaged.
When I carefully took stock, I realized that in dismissing belief systems and spiritual practices because I did not fully buy in to groups' dynamics, politics and rhetoric, I had a deficit of positive energy. Without intentionally bringing in positive energy, I was being exposed to the "stuff" body therapy clients were releasing. These energies were creating unpleasant experiences—whether or not I "believed in" them.
"The distress I am feeling is the engine that drives me forward." RR
Have you ever been angry with God, or do you reject whatever "God" might be because the enigma of suffering is confounding?
What does "faith" mean to you? Can you locate faith as a resonance or vibration instead of a concept or belief?