"Acknowledging the presence of negativity is the first step to putting your life back in order. You can't change what you refuse to confront." ~Levine
In this and the following post I will describe an experience I have from time to time, during which I locate and release energy that does not belong with me:
Occasionally, when I do spiritual practices between waking and sleep, I find myself in a state in which I am sensing my body and the energies and sensations related to the practice, and running a related inner exploration. For example, after the a set of practices related to balancing karma and forgiveness, my contemplations stimulated me to review whether or not I was harboring any emotional reactivity toward those who may have done me some type of injustice. I was gently and detachedly reviewing this topic, and checking my body sensations.
As I did this I began to notice energies from other people, which had become lodged in me. Some of these lodged because of my reactions to them, others because they were strong projections that I was unable to keep out owing to incidents in my history making the energies so similar that I hadn't filtered or sorted them. Many of these projections consisted of, for example, inner child projections from people who fervently desired me to caretake them in some way. I felt responsible for my mother's feelings and emotional needs as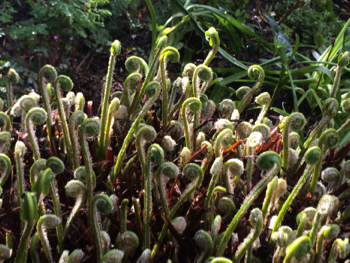 a child. I was now finding some related energies that had been lodged in me for years.
I have noticed that after periods of significant personal growth, I tend to find and release layers or pockets of energy that no longer belongs with me. I see this type of release with clients too, during profound growth. The energies we identify with are not accessible until that growth takes place and we no longer identify with them. At this point related energies release, or the issues show up, and different types of release occur as one reorients and experiences one's self differently.
In that state between wake and sleep, I experience these types of energies mainly through sensation, although sometimes they show up like dark or fuzzy/static-y spots or areas when I scan internally, which is more of less visual. These spots or areas of sensation always have a specific location. Some may reside in chakras, some in my energy fields, some in organs, and occasionally in my spine. I might feel the energy as a stinging burn, an ache, congestion, slight nausea, contraction, antsyness or deadness in the area. The sensations change or resolve after the associated energy or "impression" releases. The emotional charge on any related issue decreases right away when the energies release.
Are you able to sense when there is energy in your body that does not belong with you?
What do you notice in your energy and in your body when something is present that does not belong?
Can you discern whether what you are sensing originates from within yourself, or from an external source?