How do you sort your energy out from those around you and simultaneously develop more-universal awareness? This is the task before energy-sensitive people. As we become more aware, we must learn to integrate between personal and global.
We interpenetrate and are interpenetrated by the energy of other people. Whether or not we notice, everything that impacts our environment influences us to some extent. Everything that impacts the planet influences us. We influence the greater whole too. It's a two-way street.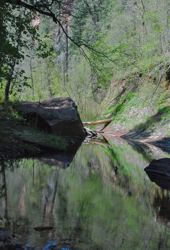 Our outer, most subtle energy fields not only overlap with those of others– they are blended as One. Visualize yourself as the smallest doll—the innermost, solid one–in a set of Russian nesting dolls. Let that doll represent your personal energies close to your body. The largest doll can represent the Collective Unconscious or group mind on planet Earth. I am not talking about abstractions. People who develop specific types of awareness experience these actualities directly.
Developing the ability to move your awareness intentionally into different states assists greatly with discomfort related to sensitivity to energy. Practices with energy and Presence can be used to exercise our capacity to sit with difficult states without being trapped in them. Sensitivity becomes a tremendous asset as one learns to manage it. Directed sensitivity forms the backbone of accurate spiritual and daily-life guidance.
In Sufism (a 2000+ year old mystical order) initiates use sound and intention to invoke and experience specific states of consciousness. Subtle, expanded states are often paired with embodied, contracted states. Alternating between attention Other to and attention to Self is one example. Spiritual practices that use this alternation help develop boundaries and Presence. Rapid alternation between states develops an ability to shift instantly between personal and Universal awareness.
ALL of the numerous advanced spiritual teachers I have encountered have been able to integrate expanded states of consciousness with body-awareness. They are extraordinarily Present and move with grace. Those who practiced types of meditation that moved awareness out beyond the body also used their clarity of focus to be fully Present IN their body and personal environment from moment-to-moment.
Powerful spiritual people require clear and lucid boundaries. The more developed our subtle awareness, the more essential are excellent boundaries. Without good boundaries, we may get tangled up in the issues and energies of others, and perhaps invade their privacy.
As with nutritional supplements, practices that benefit most people may be inappropriate for a specific individual. Also, substances or practices that benefit initially may be detrimental if used longer than necessary to correct an imbalance. What makes you feel good initially can gradually make you feel bad down the line. Then it's hard to tell because you associate that product or practice with feeling better. Misapplication of energy practices ranges from having little effect to being unsettling and causing imbalances that are difficult to correct.
All practices that advance health, personal, and spiritual development are enhanced through very specific and personalized application. Ironically: One-size-fits-all programs are not for everyone.
When it comes to powerful energy-changing practices, we have specific and individual needs. Energy work is most effective and safe when tailored to each individual. This being said, some exercises do serve almost everyone. If you are sensitive to energy, pay close attention to how any type of practice impacts you and be certain to speak up or stop if an energy exercise throws you out of balance.
Here is an example: Sometimes profound spiritual retreats include exercises designed to assist in shattering self-identification (ego-based awareness and personality habits). When the personality or ego stands in the way of connection with Other, these practices open up your sense of self and break down our habitual sense of separation.
At a five-day silent retreat a competent and alert Guide altered my practices from those of the group during shattering/opening phase of the retreat. Just thinking about the practices he was recommending to the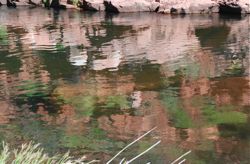 group made me feel shaky and agitated. He noticed and stepped in, directed me to practice in a way that builds up a body-centered and personal experience of the Divine instead of breaking down walls. I was already too open.
Note that the way to balance being open was not closing or obliterating sensitivity, but finding a way to balance openness with a sense of solidity. Closing down does not ultimately serve us when seeking functional energy boundaries. Finding ways to be balanced and Present is the highest option.
Presence and boundaries are foundational skills. These skills naturally help to develop the ability to become transparent to energy that does not belong with you, allowing it to pass through without sticking. We will pursue this topic more in the next few posts.
Have you ever done energy exercises that made you feel out of balance? What did you do to get back in balance?
How do you tell the difference between energy that originates with you and energy from other sources?