We learn from experience. Some experiences take years to integrate. Quality guidance quickens our ability to integrate them. Coming to grips with and discovering—or creating—value from any kind of trauma often requires additional life experience. We re-chew and digest what has happened, while learning thorough other life events that gradually put them into perspective.
The parts of myself that I feel the best about, which ultimately bring me the most joy, developed by working to integrate difficult or painful experiences.
If we cannot yet understand the meaning, value, or purpose of our experience, this does not therefore mean that our experience has no purpose or value.
It is an error to impose a belief system on others, telling them that this or that is the reason or purpose of their experience. We need to come to it on our own. Sometimes we can offer our own understanding and experience to others, and if it fits for them, it helps to develop valuable perspective.
I don't believe in making up some kind of meaning like a platitude. Meaning surfaces from the heart, through assimilating direct experience.
Whether the oyster is happy to have built a pearl, or whether the oyster feels resentful about having been invaded by sand in the first place, we do not know. In any case, it is often beneficial to examine our relationship to resistance.
It is wise to distinguish between unhealthy resistance and the kind of hesitancy that arises when something is not right for us. The later may come from instinct or internal guidance. This process is similar to telling the difference between an unhealthy food craving and the feeling we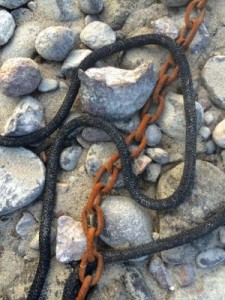 get when our body is pulling for something like salad or protein. The sensations are different. It is an advantage to learn to discern when something really doesn't feel right for us, and notice how this differs from resistance to wholesome things that do serve us. We do this through the function of Sensing. Thinking will become circular and confusing.
For the most part, resistance makes life more difficult. Initially, as we are forming a distinct sense of self—ideally as a teenager with our parents—resistance helps us to identify who we are in contradistinction to others. It can assist in learning not go along with things that do not serve us, like saying "no" to an offer to take drugs.
When we resist what life itself throws our way, resistance has little to offer. It almost always prolongs pain and difficulty. Yes, resistance can be a crude source of power like tenacity, but as we heal we find we can hang in there or say "no" without perceiving something as "other" and reacting against it.
Even if we were drowning, certain there was no way to save ourselves, it would be of benefit to focus on love or spirit during these last moments, or to become curious about the process of Transition. Kicking and tensing up increase distress. Acceptance cannot be forced. We arrive at acceptance through due process. Almost all of us can improve our experience by learning to relax non-useful resistance.
The above is hard to do when we're afraid of being hurt. I'll address other aspects of this in the next five posts.
When I can create peace within my own body by working with my energetics, I become less reactive and resistant to circumstances. I have more choices. A mundane example: When someone in a car drives behind and pesters me, if I can practice staying in my body and breathing into my abdomen or heart, and focus on my experience, I can keep from letting the other driver disturb me. This is very hard for me since I'm so sensitive to energy. If I can achieve peace even for a few moments, I gain a feeling of freedom rather than frustration and anger. More choices show up when I aim for inner peace.
Peace gives us more power. And peace gives us the space to use that power with discernment.
When consumed by resentment and frustration, I am unable to access the power to notice my available choices. Then I might feel victimized by circumstances. If I dissipate my energy in anger or resentment I am too busy to discern exactly how I might optimize my experience, to whatever extent it is possible.
It takes a lot more time to cultivate our thoughts, feelings and insights around major life experiences, to become able to accept What Is enough to create peace. But, we really have nothing better to do. Thrashing around makes things worse. There is nothing wrong with thrashing, but it makes life still harder.
We do have free will. We do not HAVE to develop. Growing to develop greater mastery helps us to optimize experience and improves our lives.
What do YOU resist?
How does your resistance bias the way you experience related events?
What is going on inside when you resist positive integration?