Ambrose Bierce, in "The Devil's Dictionary," defines "Alone: In poor company." This tongue-in-cheek humor is worthy of contemplation.
We can feel alone in a crowd, and among those with whom we have minimal rapport. We also feel alone when we are poor company for ourselves. The better company we become–the less we abandon, reject, criticize, or betray ourselves–the more we enjoy time on our own. When we enjoy time to ourselves we become less likely to spend time around people who make poor company.
In my early life, as in the lives of many, being alone was associated with abandonment, rejection, betrayal, social insufficiency, and even worthlessness. In our wounded condition we feel disconnected, unloved, and lonely. Being around others can distract from this, or exacerbate it if our issues arise. When they do arise, we can work on ourselves to develop our sense of wholeness.
Inner Work makes us better and better company–for ourselves and for others. As we become good company, distressful impressions about being alone carry less freight. We may have periods during which we feel loss or desire more contact and connection with others, but we also have times when we delight in spending time with ourselves.
"Alone" can also be All-One. Effective spiritual practice develops an experience of transcendental Wholeness. This means feeling At One with the Greater Whole–connected. Spiritual wholeness is characterized by feeling a sense of loving and meaningful connectedness with Life.
This experience is not a thought, opinion or interpretation. It is a feeling and sensory experience. Right now I am not talking about ultimate spiritual Union, but about feeling like a part of life.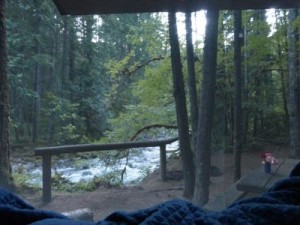 I am feeling this Wholeness at the moment. I'm sitting in my van by a big stream, in my nightgown in a mostly-empty campground. I'm within sight of the camp hosts so I feel safe. I feel connected with you, and with people who love me–even though most of them I rarely see in person. I feel close to those with whom I connect spiritually. Whether or not I have a personal relationship with them, they are part of the fabric of my moment-to-moment experience when I am happily alone because we are in one another's hearts.
Feeling connected is partly a function of how we focus our attention. It is a also a condition of our energy, which can be developed by doing practices that balance and vivify our fields and open our hearts.
Good states do happen. They happen a lot more when we do things that invite and sustain them. We do not get to really good states by resisting bad states. We get to them by allowing and observing our experience and cultivating our energy.
Being around people all the time can interfere with inner cultivation. While there are many ways we can and do cultivate ourselves around others, spending time alone gives us a baseline sense of who we are as in individual. We need space to be able to FEEL ourselves without being bombarded by other influences.
How can you tell who you are if you are seeing yourself through the biases of the people around you and resonating with their needs, beliefs, interests, and values?
Getting out in nature can help. When you have a keen sense of who you are and what you want and need you can represent your real self to the people in your lives. Then you feel whole around them instead of giving over to them, disappearing among them and losing yourself, or resisting them to make sure you're really there.
Do YOU feel more alone around other people or when you are by yourself?
How does your self-talk influence how and where you feel alone, and whether or not you like it?