Passion is necessary to fuel exceptional states of awareness. It can be used to empower spiritual practice.
Building up the energy of ecstasy naturally transforms awareness. As we have explored so far, this energy changes how we view life. It also tends to bring up issues that cause us to restrict positive feeling, or close down.
While undirected passion can easily become misdirected, leading to various entanglements, bottled or repressed passion reduces vitality and sours. Damming passion can undermine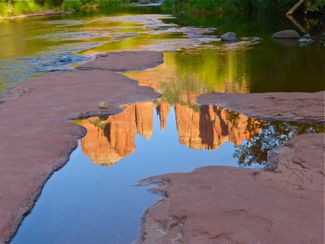 health, close the heart, and cause unexplained exhaustion. When life seems to shut down ecstasy it is very important to untie inner knots and find ways to positively engage.
Concepts about ecstasy can distract us from the options available in our actual experience. For example, we tend to consider ecstasy a superlative or even extreme state. It can be intense, but ecstasy can be internal and profound beneath a sober manner. Shifting assumptions about ecstasy can reduce fear and resistance to feeling really good. We can FEEL it instead of acting it OUT in some way.
Managing ecstasy requires straddling two different experiences: the ability to contain energy and body awareness while simultaneously experiencing a melting of barriers between internal and external. This is achieved by allowing the body and energy fields to feel intact while AWARENESS is freed to expand and soar.
On a sheer rock precipice, I wanted to remain grounded and aware of my body. I found that I could stay focused on body as a pole or pivot. Then I could relax into an expanded sense of the world around me and feel a subtle sense of ecstasy.
Delightful surroundings of rare beauty make it much easier to be transported beyond small-self. Then again, if we do so often we can become habituated to loveliness and simply raise our standards. It is an advanced spiritual practice to bring beauty, expansiveness and love from within to whatever environment we happen to be in at the moment.
In addition to an expanded view this skill involves becoming absorbed into small details. Selecting specific positive influences to focus on can help. Real positive focus is not a matter of resisting or blocking other input but of focusing in a direction that opens the heart. Being able to see beauty and take delight in diseased cacti is an example of the way increasing focus in the moment can transform viewpoint to see the extraordinary in the ordinary.
Our habit of reaching for the superlative rather than bringing ourselves fully into What Is can easily devolve into wanting more and more of whatever we are passionate about. Take, for example, sexual energy. Going for more and more becomes debilitating and depersonalizing. Moving more and more deeply into subtle energy exchange and loving appreciation opens the heart and improves life experience. In the same way, refining and deepening passion and learning to relax with it allows us to bring joy and vitality into our lives.
We do not GET MORE by trying to grasp, attain, or possess. We get more by entering fully and deeply into moments of real beauty, and opening to them so far that they become a part of us. Gratitude assists to draw it in anchor experiences of beauty, so that we can return to them in our hearts and create them more readily.
What do YOU feel passionately about?
How does this passion enhance your vitality and appreciation of life?