Distress is a call for Guidance. Use distress as a signal. Use distress to awaken yourself to your true needs. Use distress as an alert and a call to action.
Then gently find ways to notice and manage your needs before distress must arise.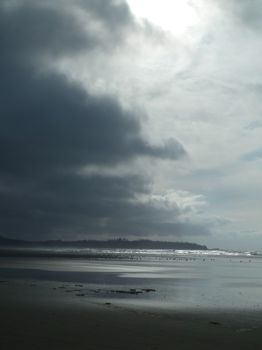 Distress is a form of guidance to those who are willing to respond to their needs. It may not be anybody's favorite form of guidance, but we can learn to use it well when it shows up. Distress alerts us that we need to do something kind for ourselves or make more loving choices.
Intestinal distress encourages more enlightened eating. The distress of feeling invaded invites better boundaries. Distress about situations suggests positive action toward change.
Turning distress toward benefit is a highly positive skill. The skill works much better when we allow ourselves to feel and explore our distress long enough to understand what is actually called for. Learning to attend to the origins and sources of discomfort is crucial.
Turning away from distress before discovering the underlying need can lead to numbness, dissociation, compartmentalization, artificiality, or superficiality. It is important to honor distress. I am not saying wallow in it, just take a careful look and use it constructively. That is the most positive way to handle it.
Here is a funny little example of using distress as guidance: Once I began coughing as a client entered my office. I could not stop. I left the room for water. The moment I left, the coughing stopped. The moment I went back to my office coughing came back. I figured out that the client had toxic energy in his fields. The moment I cleared the energy I was fine. For some years now I get an odd cough if I'm not noticing energy that needs to be addressed.
Loss, prolonged pain, betrayal, and disillusionment are more complicated than mere distress. This kind of intensity can uproot our belief systems until we don't even know what we believe any more. [link to related Post on Disillusionment.] During difficult life transitions when core beliefs are in question ill-fitting or overly-directive guidance can cause complications. The more intense our distress the greater the call for comprehensive and effective guidance.
We tend to live as if we expect to be the same person from day to day, able to control who we will become over time. When life shakes down the pillars of temporary consistency we discover that our responses to life change in the face of different pressures, circumstances and energies.
New situations, events, and collisions of emotion bring forward fresh and untried self expression. Guidance allows us to use our responses to circumstances and conditions toward our highest good, in partnership with life.
The energies that evoke earthquakes, tsunamis, and world-rocking change also restructure our personal lives. While things we took to be stabile are shifting and coming apart it is important to consider how we might use disruption itself to bring about positive outcomes.
We can use upheaval to help restructure relationships, health, finances, living situations, communities, and global structures. We transform ourselves in the process of doing so.
Here's a fun quote from the end of a friend's email: That is my plan –If chaos does not poke its lovely head into my affairs – I will be here.
As we careen into an uncertain future many feel frustrated, confused, overwhelmed, or unclear about how to harness motivation. Motivation can be difficult when we cannot see a clear path or need to alter our goals. Guidance is interaction that assists us to select a meaningful path or purpose with greater clarity and confidence.
These questions may be useful in learning to take guidance from distress:
How well do you listen to your distress?
How much distress is required to get your attention?
Do you respond better to some types of distress than others?
What do you need learn to respond with compassion to the kinds of distress you try to ignore?
What changes are supported by any disruption you may be experiencing?
Do you develop strategies for change or resist change?
How does your response to change increase or reduce your distress?