Here is the soundtrack again if you care to hear part of the event as my story of a healing event continues:
A friend on the Path, J., approached me with loving tears on her face. My body began to thrash in a resistive way when she touched me, as if on its own. This was not a release. I love J., but her energy was not going to work for me at that moment. I held my palms out in a universal symbol to back away.
B. remained solid and clear, giving me courage.
J. backed up just outside my fields, grounded herself, and began to pray for me with love, keeping her heart and her glance with me. I was deeply grateful that she understood and accepted my need without making anything up, feeling rejected, or projecting on me. I was greatly relieved that she 'got it' and could honor my need for her not to touch me without withdrawing. Her response was truly loving and healing. This touched me more deeply than touching my body could have.
B. said, "Thank you for trusting me to be there for you. It is a privilege to support you."
S., a lovely and competent therapist, showed up and laid her body across my back. On her knees beside me, she began to sob aloud. I was grateful for her trust, and this deep contact. I felt as if she was crying for us both, and learned later that her current life situation matched parts of my own. I lifted the heat and weight of her long, thick hair from her neck and face, and covered the back of her heart chakra with my hand, to support and connect.
A familiar-feeling hand took one of mine, stretching my arm above me. My new friend, A., pressed acupuncture points in my palm.
Someone calm–P.– grasped my feet, helping me stay in my body. P. put a hand on my sacrum. A jolt like a shock ran through me, jarring my body in a huge spasm. I gripped B. to stabilize my body. I saw from his face and hesitancy that P. was uncertain whether touching my sacrum was supportive. He allowed me to place his hands where I needed them at the moment. As remembered I could ask for what I need I redirected various hands to areas where I needed connection or release energy. My brave supporters were happy to be effective. Now their collective flow activated energy that had been locked inside. It began to release in intense and sudden jolts.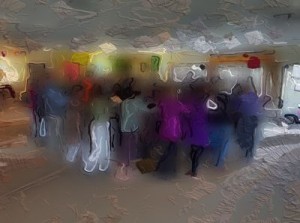 B. stroked my forehead. I pressed my face into his leg or side, pulling gently on my hair to keep my neck aligned so I wouldn't hurt it as I thrashed. I was trying to relax and let it all happen. "You can throw up on me if you need to," B. said. I told him I didn't want to. "But you can."
A tiny but mighty healer who is also a midwife leapt in and began digging with all of her fingers over my heart, like a small dog scrabbling for a bone. She suddenly grabbed and tore something out from the energy-hole she just dug, flinging it from the building. A cascade of jolts raced through me, buckling my spine and shooting out the top of my head. This release was especially helpful and powerful. I found this intervention oddly comforting and even lyrical.
Later, she told me she was aiming for the pond when she did this "extraction"--and truly hoped no one had been in the way of the energy she threw out. She said this extraction had been done by her inner fox, who assists her when she does healing.
I challenged myself to take in all this support, to let myself feel it instead of trying to get the process over with so people could carry on. I began singing softly with the group between waves of release. This helped me stay with the process without thinking too much. I let myself feel included instead of feeling as if I were interfering with the group process.
As I went through this moment of concern, B. said, "You really didn't need to go to such lengths to get a little attention from us–you could have just asked for it!" This was his kind of humor, touching my fear gently so I could laugh and let it go.
When the storm had passed he said, "Why don't you let some of your sisters walk you out to your van and go to bed." I thanked him and we shared a parting hug. He added, "I'm just glad I thought to tell you to put your head in my lap, and that you trusted me and were able to do it!"
S. and I got herbal tea and had a good talk in my van.
Does part of this story ping something for you?
What comes up, and what does it tell you about yourself?
If not, is there any feeling you resist when read this? 
How are you with receiving support?