Our energy systems (fields, chakras, meridians) reflect personal issues. Imbalances reveal our issues to those who perceive energy. Working with our energy helps us to recognize and address our issues.
The base or root chakra at the bottom of the spine becomes weak and misshapen when one has chronic safety issues. Safety issues interfere with the natural connection between the base chakra and the earth, impacting grounding. Safety issues tend to keep us out of touch with the sensations in our lower bodies, also making it more difficult to ground.
Most of us pull our energy up and out when we become afraid. Fear telegraphs 'loud' or strong sensations and energies. Fear sensations easily overwhelm and distract us from other input, including grounding. If we hear a sound in the house and feel afraid, it is more difficult to Sense whether or not an actual intruder is in the house.
Relaxing fear increases our ability to Sense, turning down the intensity and quantity of sensory 'noise'. When we are calm, we are more able to Sense the origins of sounds and energies, to distinguish the presence of a person from that of an animal or of the wind. We more easily Sense subtle input, including grounding.
Chronic fear can disable ones ability to ground. The opposite is also true: Learning to ground can help considerably with fear issues. Grounding assists us to Sense what is real. Sensing reduces disturbing conjecture and speculation, and supports empowered, reality-based action.
Addressing safety issues may be necessary to learning to ground. Addressing them means learning to: identify them, sense when they arise, feel how they impact body sensation, self-soothe, make appropriate self care decisions in the moment, and stay present with body sensations as they arise and subside from a useful response. Developing the base chakra assists with most of these steps.
Overactivity of the Mental Center can seriously interfere with grounding. We touched on this in the last post when I said, Grounding is a SENSING experience–it is not accessed with the mind.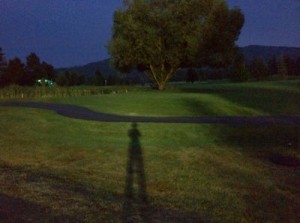 Habitual overuse of the Mental Center is quite often an attempt to think things out in order to avoid fearful consequences. This habit is an expression of fear. The attempt to avoid fear by anticipating backfires because fearful thinking exacerbates fear.
Giving a busy mind a related job can keep it involved with grounding so that it does not interfere. FOCUS and INTENTION are constructive ways for Mind to participate with grounding. Focusing and actively extending the intention to ground holds the space open for having the actual experience of grounding. SENSING is essential. You cannot think grounding into occurring.
A balance of about five or ten percent INTENDING and ninety plus percent SENSING works well. Bringing in a little bit of related Feeling can enhance the experience, like noticing the way your heart feels more open when you are grounded, longing to feel grounded, or remembering how good it felt to be grounded.
Projecting an image of reality as an overlay onto reality itself is counterproductive. To ground we need to attend to energetics and sensations–not imagining, fantasizing, believing, conjecturing, trying, postulating, expecting, theorizing or rationalizing. These activities of mind interfere with actual experience. So can excessive intending or excessive Feeling. Trying too much becomes TRYING (as in irritating). Get mind out of the way and Sense it.
The above applies not only to Sensing but to accessing intuition.
Excessive mental involvement is an obstacle to satisfying engagement with life.
A client skilled in Tai Chi had high blood pressure. She noticed that whenever she did Tai Chi or meditated, hoping to bring down her blood pressure, that it increased instead. Watching her practice, I discovered that instead of being One with her body, she held a rigid image of exactly how each position should look, striving to impose this image onto her Tai Chi form to get it right. She was Thinking the practice and trying to make her body conform to a mental image. When she meditated, she was "trying not to think" instead of allowing her thoughts to pass by without engaging them. She was using mental force and will instead of Presence.
What makes YOU feel more grounded?
Does fear impact your relationship with the ground?
If so, what percentage of your time is this going on?
Chronic fear can be subliminal and constant.
Can you Sense whether or not you can allow yourself to feel safe?