In a very real sense all Guidance is energy and all energy is a form of guidance. Energy is the form Guidance arrives in, its parcel or packet. Energy is the way information is transmitted from source to source.
If you think about the way email arrives through a wireless channel, it becomes evident that your email also arrives via energy. Energy is more elaborate, specific, and diverse than matter. In addition to the energy that makes up the atoms comprising matter, a number of different dimensions have been identified–so far. Since energy makes up matter and also has non-material expressions, the world of energy is vaster than the material world.
The fact that information arrives via energy is not occult. Various devices read diverse types of information from different sources. Radios, FAX, geiger counters, and instruments that assess electromagnetic frequencies are examples. Similarly, people with different intuitive skills are sensitive to and learn to recognize and read a range of frequencies.
Energy is direct information. It is relevant, immediate, specific, fluid, constantly available, and accurately represents what is going on.
I am not saying that everyone always reads energy accurately. Everyone cannot read blood tests, correctly interpret complex informational manuals, understand all spoken languages, or recognize microbes under a microscope either.
Plenty of accounts show that many animals know when an earthquake or tsunami will come. Dogs and other animals have less on their minds than we do. They read people's energy and respond accordingly. This extension from instinct is the most rudimentary form of guidance.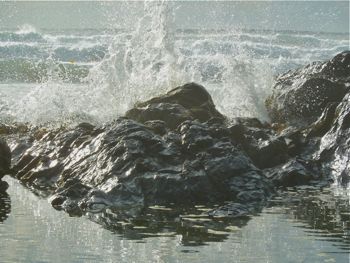 Everyone does have an instinctual response to energy. Whether or not we pay attention to these responses, we are able to sense other people's emotions, motivations, and other energies just like dogs and animals do. It takes practice. We're usually thinking too much or busy enacting partly-automatic social behaviors instead of attending to energy signals. To assume that if it exists one will be able to access it personally is an error.
Some people are quite good at reading others at a purely instinctual level. In addition to those who serve others, a skilled con or high-level criminal develops these skills. This example serves to break down the artificial walls between intuitive development and ordinary life. You will have seen examples in the media.
If we extend attention into the energy of a place, we can actually tell whether or not a dark alley is safe at the moment, or if sounds we hear on the porch at night are raccoon and possum escapades or an intruder. This skill relies on relaxing fear enough to access the intuitive processes that receive Guidance.
In Part 7 I mentioned that "Good guidance makes immediate changes in the energy in and around us" and "A skilled energy healer can can see or feel a client's energy changing in response to his or her verbal input." The energy in our fields, chakras, meridians etc. shift and change in response to Guidance.
Guidance IS energy. It comes in, from, and with specific energy frequencies. The energy arrives with a unique signature that holds clues about its origins, spiritual level, and application.
Just as a skilled acupuncturist can recognize complex patterns of energy imbalance related to organ dysfunction, skilled guides learn to identify different types of energy and understand what they mean, how they originate, and how they are expressed in symptoms, behavior, and life circumstance.
Any form of energy practice accelerates the development of Guidance skills by exercising your ability to recognize and receive different types of energy. Qi Gong, internal martial arts, acupuncture, Touch for Health, silence, grounded meditation, and Dances of Universal Peace are a few examples.
Learn to attend to energy.
How do YOU perceive incoming information?
How do YOU recognize the difference between Guidance and energy that is just information?