Grounding is foundational to managing our energy. Our relationship to the earth is so fundamental that we refer to it in a whole spectrum of contexts. Since this can cause confusion, I will start with some basics before moving into more practical and more esoteric applications.
The word "grounding" is used literally, as in physics, experientially, as in standing barefoot on the ground, figuratively, as being grounded in a tradition, and to refer to a kind of actualization, such as in grounding an idea through direct physical action that expresses the idea.
In electromagnetics: "Grounding is the process of removing the excess charge on an object by means of the transfer of electrons between it and another object of substantial size."
In the Merriem-Webster dictionary, to be grounded means: "mentally and emotionally stable: admirably sensible, realistic, and unpretentious."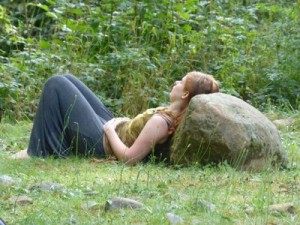 In the context of healing, grounding means being able to sense our connection with the energy of the earth, so we fully feel and are in present time in our bodies. Grounding expresses confluence between our energy fields and our physical experience.
There is overlap and blur between using the word "grounding" in different contexts. Colloquially, the word is used without much concern about this. Most of my comments about grounding from here on will be in the context of healing.
Advantages of grounding our energy and bodies:
Allows us to discharge unwholesome energy into the earth
Without grounding a build up of this energy causes issues– whether the energy is sourced from ourselves, other people, world events, or atmospheric influences
Helps anchor us in our sense of our selves
Creates safety, stability and reliability
Counterbalances the intensity of change, transition or transformation
Reduces overwhelm
Helps keep new skills and positive energies in place
Creates focus and reduces scattering or disorganization
Contains our energy so we do not dissipate it
Helps us to revitalize
Brings our spiritual energy all the way through us to the Earth, where it can be of practical benefit through action
According to Dr. Mercola, a leader in the field of natural health, grounding causes "improvement in blood viscosity, heart rate variability, inflammation, cortisol dynamics, sleep, autonomic nervous system (ANS) balance, and reduced effects of stress."
Mercola goes on to say: "The Earth is a natural source of electrons and subtle electrical fields, which are essential for proper functioning of immune systems, circulation, synchronization of biorhythms and other physiological processes and may actually be the most effective, essential, least expensive, and easiest to attain antioxidant."
Grounding actually reduces inflammation!
Here is Mercola's complete article on grounding if it interests you.
Individuals have totally different experiences with grounding. For some, grounding is simple, natural and automatic. Others have no direct experience of grounding and simply become confused when somebody else says to just do it. I was one of the people who could see that other people could do it but found actually doing it impossible for a number of years. Learning how to do it despite these initial challenges, and working with clients who have been grounding challenged has given me insight into issues with grounding.
In the following posts we will explore issues with being able to ground, and related experiences.
What benefits do YOU experience from grounding?
Is grounding easy and natural for YOU or have you had to work at it?