I entered one of the two dance circles as they were forming during afternoon practice session. I wanted to stand beside my Teacher—W—but allowed others to enter the circle between us. If one interferes with the natural flow to be close to him, W invariably moves. A few people dropped out of the inner circle into the outer, leaving us side by side. I then heard that this would be a partner dance. I did not turn toward W since that would have been clingy. The woman with whom I partnered whispered that I would get a chance to dance with W as the dance progressed. W—who was talking to the group at that moment—immediately moved into the outer circle.
The Dances of Universal Peace honor all spiritual and religious traditions. It was Easter. In acknowledgement, our next few dances evoked a profound sense of the blessings of Christ. One involved blessing one another with light, with our hands; pulling the energy of blessing up from the earth through the body and out the heart and hands, and pouring it into the heart of the dance partner.
I longed to experience what W's energy looked and felt like as he did this, since I like to attune myself to him to accelerate learning. A few times I started to crane my neck to find him, but my next partner would appear before me, and respect required complete attention.
The next lovely, melodic Dance had several parts. It used Arabic names of God related to death and resurrection, and a focus on touching the wounds of others to heal them. It contained a phrase from Jesus, "Lo, I am with you always." Dancing it, I was thinking not only of not only of the Divine, but of my link with my Teacher in connection with my spiritual Lineage.
A healthy relationship with the Teacher is both personal and impersonal. Feeling deeply connected with one Being, as a stand-in for All Beings, with the intention of learning to connect with All, is a way to start learning to feel spiritually connected with the Divine in All.
A zikr/dervish chant part of the dance formed a rousing and joyful counterpoint to the more personal partner part. It encouraged experiencing Unity. My heart sprang to embrace this joy. In the moment before the dance moved on, my glance unexpected joined with my Teacher's from across the room, a shared flash of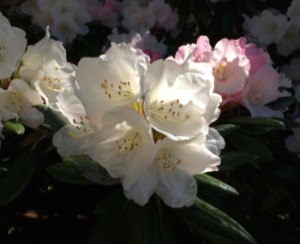 light and heightened emotion.
As the dance ended, I noticed one of the musicians was in tears. He had been going though a painful transition. I noticed an exceptionally sweet flow of loving compassion coming down through me and out my eyes and hands. My heart overflowed and my eyes filled with tears. I was startled to realize that the vibration of Christ was coming through me. I had gone into the open-handed, relaxed stance associated with Jesus.
The moment I became aware that it was happening I started to become self conscious and to censor this. To my surprise, my eyes were drawn like a magnet to the spot I did not yet know my Teacher was standing. Light streamed toward me, his eyes full of tears. He was experiencing what was happening within me—and feeding it.
Earlier, the group had done a walking practice, seeking to attune with Christ and allow that quality of mercy and compassion to move through our bodies. We next practiced the walk of Mary. W said that Mary did not need to pull away from people's wounds or conditions, but could stand with people in them.
Seeking to bring these qualities through one's self into expression takes courage. To do so genuinely instead of acting, and to allow something powerful and impersonal to express through us can feel embarrassing or strange. The work requires a safe and respectful group container.
Practicing different walks, including energies of elements and planets, requires vastly different placement of attention and energy in the body, sensory experience, motivation, and intention. The specific material is less important than the ability to fluidly express positive energies.
That evening I went into a blissful state. I had to work hard to stay grounded and remain connected with the group instead of flying off; to balance self management with merging. I sensed something pulling at me and turned half way around to discover my Teacher watching me from the outer circle. He looked mildly concerned. I copied his attunement, and pulled myself down and in without shutting down.
Sometimes I hesitate to share encounters to which many of you may not relate. Exposure to a wide variety of circumstances and possibilities can advance insight and keeps us flexible. Feel free to share experiences or responses.
If you would like to hear this Dance, with some narration by the leader and W, here is a link.